Simulated Game Situations: My Mantra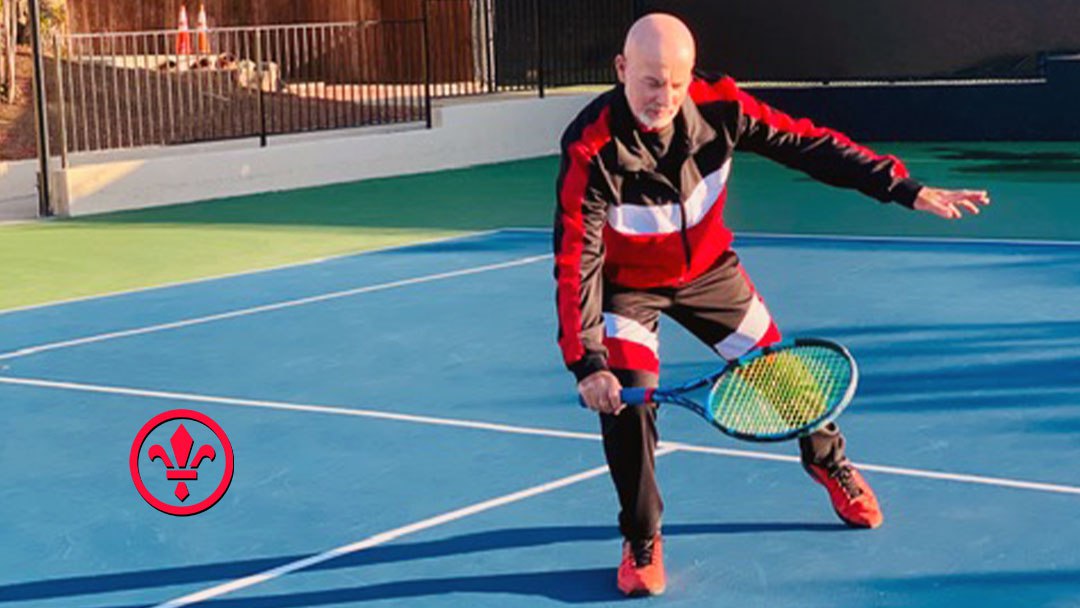 By Gabe Harmat - Tennis Coach
A Player in the Making
I was thirteen when I was introduced to tennis for the first time in my life. It was 1963 when my family had joined the Tel Aviv Country Club. This club was gigantic. It had over 30,000 members. There were two of them in the world, one in Mexico City and the sister club in Tel Aviv. It offered 20 tennis courts (4 clay), soccer field, running track, 50 meter Olympic swimming pool (Mark Spitz trained in it), 3, 5 and 10 meter diving boards with a special pool for diving and a separate swimming pool for toddlers. There were 5 outdoor basketball courts and three indoor in the gymnasium, 6 paddle tennis courts and a fully equipped gym if you wanted to pump some iron.
If you got hungry there were two restaurants, one indoor and the other outdoor by the courts.
Needless to say, I was in heaven. I was so busy getting involved with all the activities and quite often when my parents dropped me off for the weekend I'd forget to use my lunch money.
By this time I was already an accomplished gymnast, (winning national competition) and sports was my passion.
My parents signed me up for tennis lessons and a whole new chapter was about to begin in my life.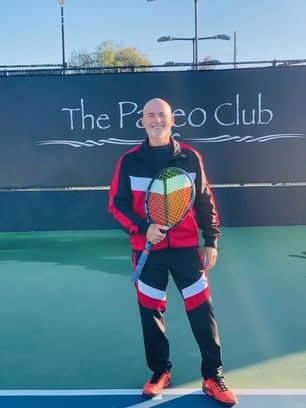 I was improving rapidly thanks to my coach Issac Parmet (not to be confused with my last name: Harmat). Not only that he was a great coach, he also taught me to love the sport.
At 16 I won the juniors and the adult championship at the club and I was proud of my accomplishments but that didn't last very long. The club was hosting a junior national tournament and I drew the number one player in the nation in the first round. His name was Randy Miller. He had already prior junior Wimbledon experience and was flawless. The match didn't last very long, I lost 6-0, 6-0. After the match I picked his brains, asked him many questions about his training. I became very inspired, I became a boy on a mission. I had intensified my lessons with Coach Issac and we worked basically on a lot of game patterns. I remember a whole summer practicing different game plans and my hard work started to pay dividends.
Two years later I'd made it to the national training event and I avenged my loss to Randy and I ended up representing Israel in Germany the following year. Randy and I are still good friends and my coach is alive and well and coaching at 87.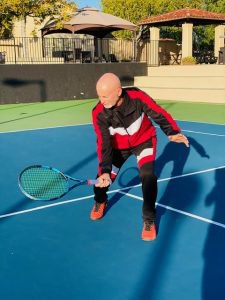 "You need to work on simulated game situations" were the words of wisdom of my coach that not only shaped my game but also had a profound influence on my style of teaching. This approach to the game of rehearsing situations that occur in match play were the key to my success as a player and the following years as a coach producing dozens of top college players.
Déjà vu
This wasn't the only time I've heard these words.
In one of my many family tennis events at Mission Hills Country Club my guests and I had the pleasure of having Pete Sampras training right by my court.
Apparently Pete was training on the clay courts getting ready for tournaments in Europe. On one of Pete's breaks I asked him if it was OK to have some photographs taken with him and if he could sign some autographs as well. He obliged. I was thinking what if I could just get Jose Higueras (former French Open champion) his coach to talk to my group, it would have been the icing on the cake. To my astonishment he agreed. We set down at the stadium court and for one hour we were listening to one of the best coaches of all time.
Do you know what he was talking about? It was déjà vu all over again: "Simulated game situations."
Ultimate coaching
The year 2020 was the 20th anniversary of my short stint of coaching an A.T.P. player from Israel. His name was Nir Welgreen. After being one of the top juniors in Israel he continued competing successfully on the A.T.P. tour and got his ranking up to 160. I met him in Israel and after a week of drilling he was interested in having me as his coach. His plan was coming to LA to train with me and then continue with his traveling to Brazil to enter the Challenger circuit. He needed to pick up a significant number of ATP points if he wanted to enter the "qualies" for the US Open. A month later Nir and I were already training in LA.
The knowledge that was passed to me by my coach and all my accumulated experience were in full use to get this youngster ready for his big time dreams. Once again I was hearing the words of my coach: "simulated game situation," and that's exactly what we did. Nir's strokes were as good as anyone's in the business. I assure you that a player at his caliber with close matches against Henman and Kafelnikov didn't need work on his strokes. What we did though was rehearsing game plans against different types of players and game patterns. Three weeks of training and Nir was on his way to Brazil. He entered several tournaments and I was anxiously waiting to hear from him. Apparently our training yielded results and six weeks later I got that hoped for phone call. "I'm in, I'll see you in New York" said the voice on the other end.
Nir told me that he had won a bunch of points in Brazil and he was invited to the US Open qualifying. That night I was on a red eye flight. I met Nir at the hotel the next day in Queens and we took a cab to the courts. My coach's badge was handed to me and I was all clear to enter the courts and the locker room. There was a rain delay which gave me lots of time to hang out in the locker room with all the players which was another awesome experience.
Nir introduced me to Guga (Gustavo Kuerten), three time French Open champion, apparently they were hitting buddies in Brazil. Just like I thought he was the friendliest guy on the tour and was liked by everyone. I got to talk to other coaches and watch all the pros close up. The locker room was anything but ordinary. There were massage rooms used by the players before and after their matches, there were stationary bicycles to warm up, Goran Ivanisovich was on them for hours. Andre Agassi was the most popular guy. He was guarded in the locker rooms and when he was about to go out for his match he was surrounded by four body guards, you could hear girls screaming as soon as he was in sight. On the other hand I remember watching Pete Sampras eating a banana at the lavish buffet all by himself, he wasn't very social. He was the total opposite, very secluded nothing like flamboyant Andre. I also ran into some players and coaches from Israel, Shlomo Tzoref who was the coach of Amos Mantsdorf (14 A.T.P.) and Gilad Bloom (48 A.T.P.) and Shlomo Glickstein (top 20 in the world). There were seven Israeli players in the qualifying, with two making it to the main draw, one was Harel Levy who beat James Blake. Marat Safin was also there hanging out with some other Russian guys, Nir called them jokingly "the Russian mafia". He wasn't getting much attention in the locker room but sure got it after winning the U.S. Open that year destroying Pete Sampras in the finals.
The weather cleared and it was time to get on the court for a one hour allocated training time. Believe it or not it's the same system like in any club. You sign up for a court and when it's your time you "bump off" the previous occupants. Let me tell you, I was very uncomfortable bumping off Tod Martin (4 in the world) or David Wheaton, but did it anyway. We put in another day of training and then it was match time. In the first round Nir drew a very strong player from France by the name Michael Liorda who reached a high A.T.P. ranking of 21.Nir won the match in straight sets 6-3, 6-4.
The next match was against Michael Sell (highest A.T.P. ranking 83). This was a tough one. The first set Nir lost 3-6. He put himself together and won the next one 7-5. The third set was very close and by this time the match was over two hours long, at 2-2 Nir started to cramp up, he could barely walk. Luckily I had some cramp-relieving pills on me and was able to hand them over on change over. He recovered and was able to break serve to even the score. The match went on for three hours and Michael Sell prevailed 7-5. He went on to reach second round in all the grand slams eventually.
I was very pleased with Nir's effort, the match was played in front of a full stadium, it was played at a high level and the crowd appreciated it. It was a very close match and I think that if Nir was better conditioned he could have prevailed. Nir and I went to the players' party and after hanging out for a couple more days and then departed with warm wishes.
To sum it all not only that this was an amazing adventure it was a learning experience.
I'm very thankful that I had wonderful mentoring in my junior years, it was very handy to pass some of that knowledge to the next generation when I became a coach. Until this day I've never forgotten my coach Issac's words: "work on simulated game situations." This was the way I trained as a player and this is what has shaped my coaching throughout the years.
Thanks coach!