Kenny "KP" Puvogel Blog | mid life crisis | passion | Tennis
The Proof Is In The Passion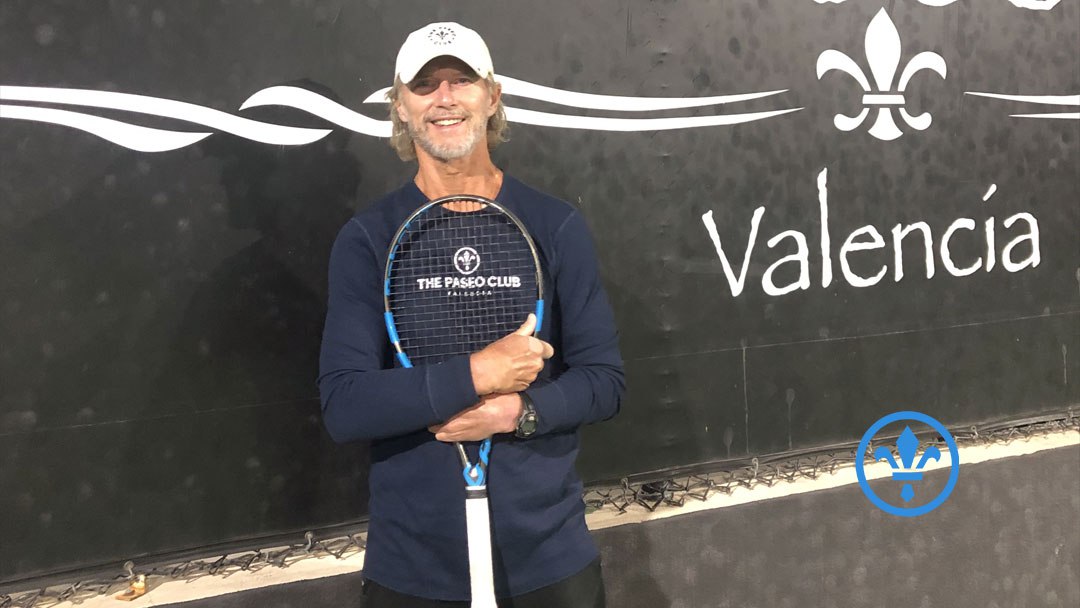 How Tennis provided me a passageway from a possible mid life crisis to a new path in life
By Kenny "Coach KP" Puvogel - Tennis Coach
The year was 2000.
I was traveling back and forth from LA to Cabo San Lucas working for rock icon Sammy Hagar. Sammy owned Cabo Wabo Cantina, a rock club some of you I'm sure have visited and partied at, and Cabo Wabo Tequila. I was involved with both of those aspects of his career in Cabo. My primary job was managing and directing his recording and touring career worldwide.
Tennis you ask? While in Cabo I was teaching tennis at the Adan Bries Tennis Academy as one of the touring pros where the primary focus was to travel to hotels who had courts and teach and play with hotel guests. I enjoyed teaching there.
I met Sammy when he was a solo recording artist as well as the lead singer for one of the best rock bands ever assembled, Van Halen. Van Halen was an act on the most prestigious record label in the biz, Warner Bros Records, where I rose up through the ranks of local promotion manager to Vice President of Rock Promotion.
I worked with artists such as George Harrison, John Lennon, Prince, U2, Madonna, Frank Sinatra, Rod Stewart, Elton John, Tom Petty, Aerosmith, Fleetwood Mac, ZZ Top, etc, etc. I also played tennis with some of these artists. Some of them were quite good. (More on that perhaps in another blog)
I had left Warner Bros in 1997 to become Sammy Hagar's personal manager for the next 3 years. In 2000 we parted ways. Now what was I gonna do? Stay in Cabo? Only teach tennis and become a beach bum? Go back to the states and seek another record company gig? The record biz was in turmoil and people were losing their jobs left and right and record companies were folding at an alarming rate. In my opinion, it was due in large part to music being offered up for free on the internet.
Mid life crisis...
Enter into the equation my good friend and one of my mentors Josh Stimac who was then head coach at Canyon High School. We were talking and he convinced me to come back to the states and join him as asst coach at Canyon. He said, "You love tennis. You know all about it, and you're semi good at playing it (LOL). I know you'd be great at teaching it." He told me to put my knowledge to good use and teach people a sport. After all, I went to college to become a teacher. I was 20 credits away from being an associate professor in European History. Then my life took a sharp left turn into the record biz!
So now I was going back to my first goal in life, to become a teacher, albeit not of European history, but a teacher of another passion in my life.. TENNIS. The results have been so rewarding.
I have been a head or assistant head coach at four of the six high schools in SCV; West Ranch, Valencia, Canyon and Golden Valley. I have run the summer program at College of the Canyons as well.
I started at the Paseo Club in 2006 and this is my 12th year here at my second home. I left in 2011 to coach at five clubs in NYC, my hometown. Came back to the Paseo in 2012. Then left again for a year to teach in Atlanta where I taught at three clubs. I came back to the Paseo in 2015, and I ain't leaving.
I have also been a USTA roving umpire, something I have to get back into. I had the privilege of umpiring at the Mayor's Cup at the Billie Jean King national tennis center in NYC, site of the US Open.
I was given a second chance to teach, and to teach a sport I love. To get people excited and motivated about learning a sport, to get people to exercise their bodies and minds. I am a living example, living proof of a second chance at making something out of your life. When an opportunity presents itself to you - know it, seize it, secure it, go for it!
I teach the beginner's program here at the Paseo. If you're a health member and have the slightest bit of interest in learning what I consider the greatest sport of them all (and I've played most of them), the sport of a lifetime, TENNIS, come down to the courts and join me. I can assure you, with me, you'll find that the "PROOF IS IN THE PASSION."
Mid life crisis? Ha! My continuing, ongoing tennis experience has taken care of that! See you on the courts!