Where to find the best coffee in the Santa Clarita Valley — A review of coffee shops
Three-quarters of Americans drink coffee, and over half drink coffee daily. Coffee has become one of life's little pleasures we simply can not live without. It has even become an obsession for some.
Coffee increases focus, energy, and mood, and it jumpstarts metabolism. For many of us, coffee is a necessity to begin the day.
Finding good quality beans and making coffee at home is a simple task. But there is something special about going to the local coffee shop and ordering a cappuccino, latte, mocha, or one of the many other delicious caffeinated drinks baristas crank out.
But fancy coffee drinks don't run cheap, and there is nothing more disappointing than when you arrive at the coffee shop ready for your hit of caffeine and find that your drink is too cold, the beans are stale, or the barista added too much sweetener.
That is why the staff of the Paseo Club valiantly sacrificed themselves to sample coffee at all of the locally-owned coffee shops in the Santa Clarita Valley and report back what they learned.
The Paseo Club is a social club for people who love working out, building community, and guzzling coffee. (Because who doesn't want a wee boost before hitting the HIIT class?)
In this article, you will learn about the local coffee shops — the pros and cons of each shop, the cost of the drinks, and the quality of the coffee. We graded coffee based on the aroma, freshness, full-body flavor, and cost.
Coffee Shops in the Santa Clarita Valley
Santa Clarita has become a foodie community with quality restaurants, grocery stores, farmers markets, and coffee shops abound. Below is a list of the local coffee shops in the SCV in alphabetical order.
Bodhi Leaf Coffee Traders
Bodhi Leaf Coffee Traders is the option for natural coffee. It is also the best choice for vegans and those looking for green coffee choices. With two locations in Santa Clarita, there are options around town to keep your caffeine levels up!
Pros: There are fun flavors to choose from, like lavender and honey, keeping your coffee always interesting. The "Muffin Man" made with espresso, oat milk, blueberry syrup, and topped with cinnamon was definitely interesting… and maybe an acquired taste. They offer plenty of milk alternatives to give you choices no matter what your body needs.
Cons: It's easy to get overwhelmed with the coffee options — pour-over? French press? Happily, most of the baristas are well-versed in the different options and can help to educate you on what you'll like best.
Good fit: Bodhi sells forty types of roasted and green coffee to local connoisseurs. They also sell roasting equipment and offer classes so you can learn more about coffee and the roasting process.
Bad fit: Customers on a budget will find Bodhi is not the most affordable option.
Cost: 12 oz cup of coffee: $2.85; 16 oz cappuccino: $4.70; Espresso double shot: $3.30
Review of vanilla latte with almond milk: I was feeling adventurous, so in addition to the vanilla, I added a little lavender. It was very smooth and not too flowery.
Grade: A-
Quote: I love just a little lavender in a latte — it's never too flowery, like my Auntie Rose's house. - Jodi Broz
Golden Spoon North Park
Coffee in a fro-yo shop? One of the unique aspects of this Golden Spoon is the shop opens early every day to offer a cup of joe to patrons long before the dessert crowd hits.
Pros: The staff is really what makes the stop worthwhile. It is family-owned and operated — this is the place to grab a coffee with a smile and wishes for a great day. Every. Single. Time.
Cons: Although it is open early for a yogurt shop, it can still be too late for those who need their coffee hit before the sun comes up.
Good fit: If you love your coffee before or alongside your frozen yogurt, and are in the neighborhood, Golden Spoon is a good choice.
Bad fit: You can't find the coffee menu online, and there is no reward program.
Cost: Cost: Cup of coffee: $2.25; 12 oz cappuccino: $3.25; espresso: $2.75
Review of vanilla latte with almond milk: The friendly staff is wonderful and lets you customize your drink to your tastes. I can have a little extra sweetness or a little less to hit my perfect balance.
Grade: A-
Quote: Great coffee options for early in the day. Come back later for the fro-yo! - Rebecca
Grace Coffee
Grace Coffee is inside the compound of Grace Baptist Church. It is a small coffee shop and a beautiful place to grab a drink and enjoy the outdoor setting on a nice day. There are tables and chairs for seating and vast sidewalks if you feel like strolling with a coffee and a scone.
Pros: Grace is a unique spot with flavorful coffee. The menu is short and sweet, and the scones are plentiful.
Cons: Not the easiest place for grab-and-go, especially between services on a Sunday.
Good fit: This is a lovely spot to grab a drink if you are a church member or live nearby.
Bad fit: They open later than some of the others and are closed on Fridays and Saturdays.
Cost: 10 oz cup of coffee:$2.00; 6 oz. cappuccino: $2.75; espresso double shot: $3.00
Review of vanilla latte with almond milk: The vanilla latte with almond milk was well-priced and hot. The coffee was from a small-batch brewing company offering smooth roast. A Winner!
Grade: B+
Quote: Such delicious coffee! I went in to have something warm on this chilly day and Pamela helped me. She made the most delicious latte ever! Way better than Starbucks — definitely highly recommended and super budget friendly as well! - Francesca
Havana Savannah
Havana Savannah is a fun coffee option with great snacks in Santa Clarita, near Rio Norte Jr. High School. They have patented their own extraction process called TornadoBrew™ to bring out the richest flavor.
Pros: Fun different food options to go with your coffee, and seasonal changes keep the menu exciting.
Cons: Despite constantly changing the menu, some drinks start to taste the same.
Good fit: If you love lots of different fancy sweet coffee drinks, then Havana Savannah is the place for you. Order the Sea Salt Chocolate Sweet Cream Cold Foam Cold Brew or Sugar Cookie Latte.
Bad fit: If you have strict allergies, they cannot provide a wheat, dairy, or tree nut-free zone.
Cost: 12 oz cup of coffee: $2.45; 12 oz cappuccino: $3.95; espresso double shot: $2.75
Review of vanilla latte with almond milk: Overdose on the vanilla, this one is a good choice for those with a sweet tooth.
Grade: B
Quote: Hav Sav is the BEST! There is nothing better to get me through the chilly mornings! - Anastasia Amelchenko
Honu Coffee
Honu Coffee is a charming coffee spot in Newhall with a new second location now inside the Real Life Church in Valencia.
Pros: Plenty of character and unique drinks here, when you want something a little different, this is the #1! Try the dirty ono chai or the nutty Hawaiian for something fun!
Cons: If you are on the Santa Clarita side of town, the Lyons location can feel far away, and the church hours are not established and reliable yet.
Good fit: Honu makes syrups in-house and has a wide range of milk alternatives for dairy-intolerant patrons. They also sell vegan, gluten-free, and traditional pastries. You can order online for pick-up, or they can bring drinks to your car.
Bad fit: Honu is not always the fastest place to get a coffee.
Cost: 12 oz cup of coffee: $3.00; 16 oz cappuccino: $3.90; espresso single shot: $2.00
Review of vanilla latte with almond milk: Honu uses a homemade vanilla syrup and organic almond milk for a quality taste and just enough sweetness.
Grade: A
Quote: Honu is often the only reason I'm awake. - Maria Barrientos
Neighbarista
Neighbarista is a local breakfast and lunch restaurant with a coffee bar inside. They offer egg dishes, crepes, waffles, French toast, bowls, salads, and more.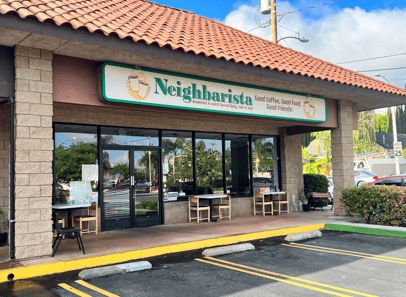 Pros: Neighbarista's coffee is from Intelligentsia, and their creamers are homemade, avoiding much of the over-processed taste found in big-box coffee shops.
Cons: This is definitely more of a restaurant than a coffee shop, so if you're just looking for the caffeine hit, you may be disappointed. (But if you can grab a cinnamon roll and feel better, you're good!)
Good fit: This is a great place when you want to go out to eat and have quality coffee alongside your food.
Bad fit: If you prefer a varied menu with multiple coffee drinks to choose, you will be disappointed.
Cost: Cost: Cup of coffee: $3.45; 12 oz cappuccino: $4.75 espresso double shot: $4.60
Review of vanilla latte with almond milk: Instead of the usual vanilla latte with almond milk, I went for a regular almond milk latte to sample the homemade creamer. The latte was definitely worth the change — way more "real" vanilla flavor.
Grade: A-
Quote: Scrumptious breakfast place we like to hang out at after church. Friendly owner and staff. Love the bold coffee, homemade cinnamon rolls, and jams. - Roy A.
Trophy Coffee
Trophy Coffee is located at Master's College. This coffee shop is a bit of a trek to get there, but well worth the drive when you can make it. It is a cute shop with some fun personalized gift options. The staff absolutely knocks it out of the park — they are SO engaging and friendly, and you just feel better about your day after coming in.
Pros: As mentioned, the staff is the biggest draw. But the coffee also wins it here. Their coffee is super flavorful with multiple pour-over options and fun holiday specials. The seasonal gingerbread latte was not only tasty but beautifully crafted as well.
Cons: If you want a bite to eat, there are only a few pastry options and not many savory choices.
Good fit: Students are lucky to have such a high-quality shop on campus.
Bad fit: Trophy is not the most conveniently located shop unless you are a student. It takes a drive to get onto campus, but once you are there the gorgeous campus is a nice place to mill about.
Cost: Cup of coffee: $3.00; cappuccino: $4.00; espresso single shot: $2.50
Review of vanilla latte with almond milk: This vanilla latte with almond milk was incredibly flavorful, not at all bitter, and the flower in the foam was beautiful!
Grade: A+
Quote: The nitro cold brew was very delicious, smooth, rich, and refreshing. - JS
Choosing your next latte
The rich flavors and delicious smells of coffee have kept people drinking it daily for centuries. It helps us start our mornings, provides relief for afternoon slumps, and occasionally accompanies our after-dinner desserts.
These days coffee connoisseurs are exploring how to craft the very best cup. Where the coffee is grown and harvested, the drying and roasting process, and the extraction method are all under scrutiny.
This era is a great time to be a coffee lover, whether you are a minimalist and order Americanos or one of those who prefer specialty drinks such as a peppermint mocha with espresso, Ghirardelli chocolate sauce, and peppermint syrup (thank you Havana Savannah!).
In this article, you have learned where the independent coffee shops are in the Santa Clarita Valley, what the shops are like, the benefits and drawbacks of each shop, and some of their pricing. We hope this helps you find your next great cup!
Once you've had your morning coffee with friends, stop by the Paseo Club to try out one of the 60 fitness classes we offer each week. Whether it's Pilates or HIIT, cycle or Zumba, we've got a class for you! If you love racquet games, there is also tennis and pickleball.
Are you new to the Santa Clarita Valley and want to expand your friend circle? Come in for a tour of the Paseo Club. You can check out the pool, cafe, spa, courts, and fitness facilities.
To learn more about Santa Clarita, read these three articles: