The benefits of friendship (Making friends in the Santa Clarita Valley)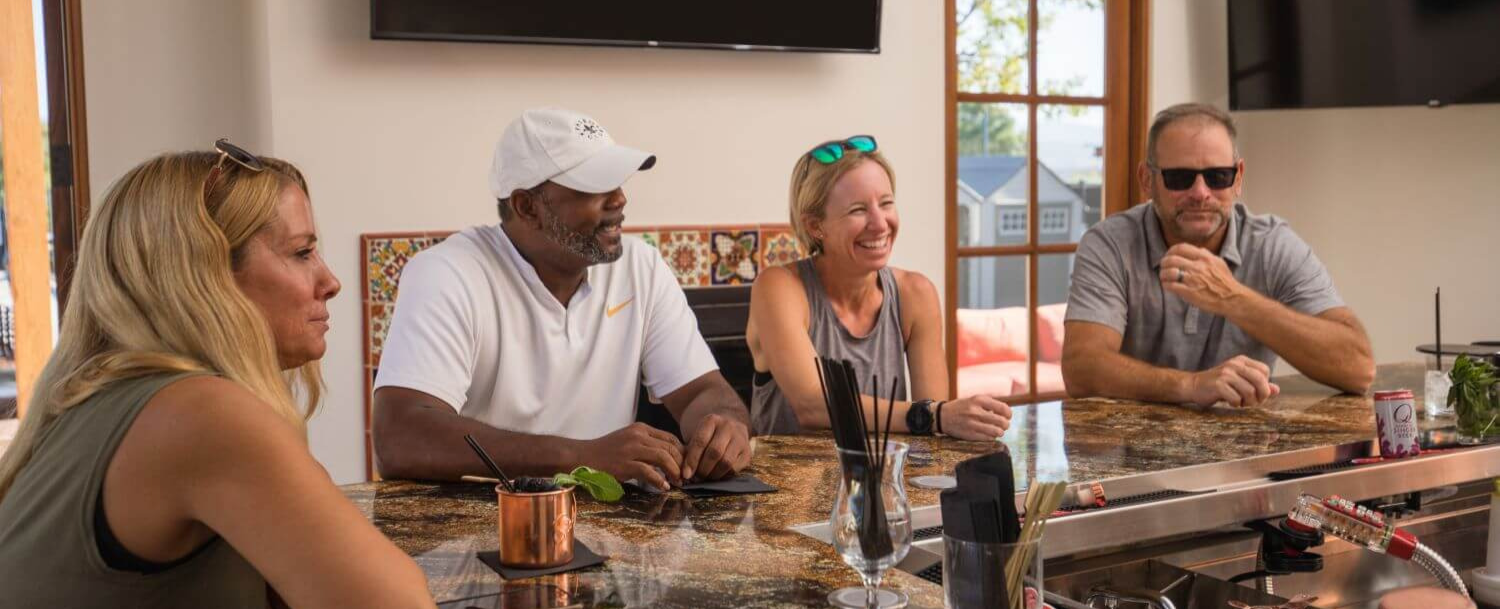 By and large, humans are social creatures. We crave connection and interaction. This is a big reason social clubs, volunteer organizations, fitness centers, hobby groups, and dog parks exist.
When you were young and in school or college, social circles were easy to come by — in class, in study groups, or at the occasional party. But as you get older, finding friends and cultivating friendships takes more strategy and intentionality. It is worth it!
A strong community not only adds fun and laughter to your life, it actually improves your health in myriad ways, helping you lead a richer and more fulfilling life.
The Paseo Club is a social club in the Santa Clarita Valley that has supported members in their health and fitness journey for almost 20 years. The Paseo Club knows how important fostering connections is for their members, which is why the club is a home away from home.
In this article, we will share with you why friendship is beneficial, how having friends affects your health, and where you can meet new people in the Santa Clarita Valley.

What are the benefits of friendship?
Friends give us a chance to share in celebration when we experience a win and offer solace when we have a loss. Friends keep us from isolating ourselves, even through tough times. Finding ways to stay connected to friends became paramount to many of us during the pandemic.
According to the Mayo Clinic, friendship provides emotional support in many ways:
Reduces depression

Increases happiness

Reduces stress levels

Improves self-confidence and self-worth

Increases the feeling of purpose and belonging

Helps people manage and cope with traumas — divorce, illness, job loss, financial stress or the death of a loved one


But the benefits of friendship are not limited to improving mental health. Researchers found that physical health is also enhanced when we have strong social connections.
Lowers blood pressure

Assists in achieving a healthy body mass index (BMI)

Increases longevity (especially in the senior population)

Encourages change or avoidance of unhealthy behavior — excessive drinking, drug use, poor nutrition, and lack of exercise
How does having good friends help us in all stages of life?
A good network of friends is critical in all stages of life. There is no one time that we do not need companions, but our needs for friendship can vary depending on our age.
Youth and teens

Often, it's easy to make friends as children — much of it is based simply on proximity. As they continue to grow and evolve, some friendships thrive while others fade.
Kids will have plenty of exposure to different people in their lives. When they're young, most of that influence comes from within the home and family unit.
As children grow, school, sports, and extra-curricular activities help them to interact with others in their age range.
Adolescents face complex decisions.
Where to go to college

How to deal with peer pressure

What choices should they make with a romantic partner

What to do when faced with the opportunity to drink alcohol or take drugs
Having a solid group of friends who accept them as they are, without putting expectations on their choices, is a significant support to teens and helps them make good decisions when exposed to challenging choices.

Adults and parents
Making friends is different for adults and parents. There is not a built-in community for meeting people the way children have with school.
Connections do not always happen organically and between work and kids, there isn't as much time to prioritize budding friendships.
As an adult, most friendships center on a shared way of life and values. To find like-minded friends is beneficial to your sense of belonging and well-being.
Having a friend, or a few friends, you can talk to about parenting issues, challenges at work, aging parents, and other relevant topics, helps you feel supported and cared for.
Seniors
Having friends as a senior is essential. To stay young-at-heart and vibrant even as you get older means continuing to engage in the world around you.
Multiple studies show that seniors who have a strong community experience a better quality of life, improved cognitive function, and increased longevity.

How do friends who make good lifestyle choices affect you?
Finding the right friends for you is as important as having friends at all.
When your friends are pursuing choices that do not mirror your values or priorities, you aren't going to thrive.
Surrounding yourself with friends that make healthy choices and have similar goals helps you to solidify your passion and commitment to a well-lived life.
Friends can provide you:
Good examples of healthy living

Motivation and encouragement for making improvements

Partnership in new fitness, hobby, or nutrition programs or classes
How many friends should you have?
It is not the QUANTITY of friends, it is the QUALITY of your friends.
Having a core network of friends you can trust and rely on matters more than having a large amount of casual acquaintances who might not really know you at all.
When you have "your people" you feel strongly about the quality of your friendship community, and these friends become a part of your chosen family.
What are the steps to nurture your friendships?
Nurturing friendships can take time and attention. Sometimes we are lucky to have a friend who is a neighbor or co-worker who we see frequently. But often friends live across town (or further) and lead their own busy lives.
Here are some simple steps you can take to tend to the friendships in your life.
Make regular time to visit,

whether on a video call, phone call, through text, or in person. Some of your friends you will do this with weekly, others monthly, or even quarterly — try to be consistent.

Be present when you hang out.

Try to turn off your phone, get childcare for your kids, and really pay attention to what each other says. This quality time allows for deeper sharing and shows how much you care.

Empathize when your friend is suffering

. Empathy is an important social skill that conveys to your friend that their well-being is important to you and that you are available to support them when times get tough.

Show gratitude to your friends.

Friendships are not unlike a marriage; we all want to be told we are loved, appreciated, and respected.

Maintain confidentiality.

A sign of a close friendship is when your friend confides in you something personal they do not want to share with others. Your friend is expressing trust and vulnerability with you. Respecting your friend's right to privacy is paramount to maintaining a strong friendship.

Apologize and mend conflicts.

It is a fact of life that we will have conflict with our loved ones — spouses, kids, and friends. Although it can be awkward and difficult, learning to say sorry and being willing to hear your friend's experience about a disagreement makes friendships stronger.

How can you make friends in the Santa Clarita Valley?
Making friends as an adult, especially if you are new to a community, often is not easy. Meeting new people means putting yourself out there — going to new locations, introducing yourself to others, and even asking a new friend out on a "friend date."
The Santa Clarita Valley is full of different community centers and destinations for socializing. Here is a comprehensive list of great places to meet others.
Join a sports team.

The

City of Santa Clarita hosts several adult sports leagues

active throughout the year. Choose from soccer, basketball, volleyball, pickleball, and more.

Find an activity you love.

Do you like to read? Find a book club. Do you want to learn how to dance? Find a dance studio. Consider what you enjoy doing, and search out a local group of similarly interested people to meet.

Go back to school

— not full-time (unless you want to). But if you want to learn more about a favorite subject or skill, look to

Gateways SCV for adult education classes

.

Is your dog your best friend, but you want to expand your social circle?

Santa Clarita has several dog parks

for you and Fido to enjoy. While your pup is racing about the park, you can take a moment to talk with other dog owners and see if a walk with the dogs to the local cafe can be the next step.

Volunteering with a local charity organization is great for finding people who value community service.

The opportunities in the SCV vary — a docent at a museum, a coach for a child's sports team, a chef at the local food pantry.

Santa Clarita Volunteers

is a wonderful resource for finding volunteer opportunities in the community.

Meet your neighbors.

It may be considered old-fashioned to bring a plate of cookies to your neighbors, but that gesture is always appreciated. Developing a friendship with your neighbors can help your kids develop friendships with their children, and if you ever need a cup of sugar, they can be your go-to people.

Attend community events.

Santa Clarita has a number of cultural activities for the community every month.
Book readings

Community theater

Music performances

Cultural celebrations or festivals
Attend a center of faith.
The Santa Clarita Valley has a wide variety of religious and spiritual centers. Church, temples, and synagogues are historically a place of community gathering for people of all ages.
Join a social club.
A social club can focus on any activity or interest. There are social clubs for birding, political activism, the arts, fitness and health and more. In Santa Clarita you can find the Geek Girls, Paseo Club, and Moms Clubs.

Building friendships in your life
Good friends are good for your health — they are just as important as eating well, exercising regularly, and getting quality sleep.
Having a strong circle of friends in your life boosts your physical and mental health and brings you joy into your life. Although developing new friendships can be challenging, it is well worth the effort.
In this article you learned the benefits of friendship, how your health is impacted by having friends, and how to make new friends while living in the Santa Clarita Valley.
The Paseo Club is a social club for people who love fitness and making connections with others in the community.
Whether it's through finding a new workout buddy, a tennis teammate, or a confidant for smoothies at the cafe, there are multiple opportunities to make friends at the Paseo Club.
Member's also attend social events such as holiday parties, charity events, member mixers, or dancing and a drink on Wine Down Wednesdays.
You can check out the events calendar to learn what social events are coming. Group fitness is a fun place to make friends while getting fit. Sign up for your favorite classes.
If you have not yet made it into the Paseo Club, now is your chance! Schedule a tour of the club today and check out the tennis and pickleball courts, gym facilities, junior Olympic pool, spa, cafe, and more!
Check out these three articles to learn more about what the Paseo Club offers.
*The final photo was taken by Tor Rolf Johansen