What are the benefits of preparing meals in advance? (In celebration of National Nutrition Month)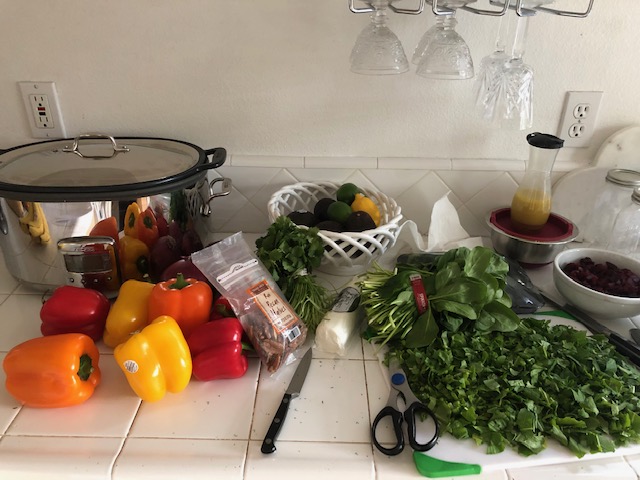 We have all heard the dietary recommendations.
Eat more vegetables.
Eat less sugar.
Only consume food in moderate amounts.
Reduce your salt intake.
We know what to do to be healthier, but do we always follow through with making the best choices?
If you are like most of us, the answer is no.
Between work, kids, errands, commuting, and other demands, it is difficult to have the time and energy to eat well. We may want to be healthier versions of ourselves, but time and costs are significant barriers.
The Paseo Club is a social club in the Santa Clarita Valley that has supported the Santa Clarita Valley community in wellness for almost 20 years.
In addition to fitness instructors, the club has four nutritionists on staff to help you learn how to eat healthy while being mindful of your budget and time.
In this article, we will celebrate National Nutrition Month by sharing with you how you can eat healthier for less money, effort, and time with the help of a little advanced planning.
How does preparing meals in advance save you time?
Meal prepping helps you to plan your meals and make enough for the whole week in one work session.
When you prepare your meals in advance, you save valuable minutes that help you in the morning on your way out the door, as you're finishing up that last email before lunch, and when you're making dinner for your family in the evening.
Americans spend an average of 37-61 minutes a day preparing meals. Yet a meal prep "sesh" often takes 2-3 hours for the entire week. This means you can cut your time in the kitchen by half.
How does preparing meals in advance save you money?
Planning your meals helps you save money in three ways.
1. Buy bulk
Buying in bulk is a cost-saving choice, giving you more bang for your buck at the store. Bulk foods need less packaging and labor, and the price break is passed on to the consumer.
Shop for bulk goods at your local grocery store, membership warehouse, or natural food store.
2. Shop sales
Scour the shelves for good deals when you shop. When you find well-priced items, build meals around them. This system can help you save money and keep your meal options fresh and innovative.
3. Minimize impulsive shopping
By having your meals planned many days in advance, you alleviate the need to grab-and-go or order out, which adds unnecessary expenses to your weekly budget.
How does preparing meals in advance help you eat healthier?
When you haven't prepared your meals in advance, and those hunger pangs hit, it's much easier to grab something quick that is not nutritious — fast food over salad with lean protein.
Taking the time to prep allows you to consider how and what you want to eat. You create balanced menus for the week, ensuring you are getting adequate protein, vegetables, fats, and complex carbohydrates.
This method sets you up for success. You won't have to negotiate with yourself about making the right choices for your health (and waistline) because the decisions were made by you earlier when you were in the right frame of mind.
How does preparing meals in advance help children?
Adults are not the only people who benefit from advanced planning.
Children need healthy food for optimum emotional, physical, and cognitive health. Research shows that kids who eat well have better grades, attendance, and focus in school.
Most kids have pretty simple palates, and they're happy with the same foods over and over. These basic needs save parents time and energy. Keep your child's healthy choices prepared, so they have go-to options for snacks or meals.
As kids get older and can make their own choices, they can begin to help create family menus and do meal prep by your side.
Some popular healthy snack and lunch choices for kids are:
Nuts or trail mix

Protein smoothie

Hard-boiled eggs

Toasted seaweed snacks

Sliced apples with cinnamon

Cheese sticks with rice crackers

Yogurt or cottage cheese with berries

Sliced vegetables with hummus, guacamole, or other nutrient-dense dips
What kitchen tools help prepare meals in advance?
You can do meal prep with what you currently have in your kitchen. But some tools can make your food preparation experience easier and faster.

Storage containers
Storage containers are the most useful tool for prepping food. When you get everything into the correct containers your meals will be organized and properly stored. Bento boxes are perfect if you prefer your foods to be separate, while Tupperware and mason jars work great for mixed foods.
Instapot (or pressure pot)
Instapot is a kitchen appliance that has taken the world by storm. Whole chickens cook in 25 minutes, rice in 5, and stew in 45. The Instapot automatically turns off once the cooking time is complete, safely keeping your food warm and ready to eat when you return home.


Food Processor
Food processors are great for bulk prepping. They can shred cheese, chop onions, and blend sauces and batters. It keeps your kitchen area cleaner and saves you tons of time and effort.
Spiralizer
While a spiralizer is certainly not a necessity, they sure are fun to use! Make yourself zucchini noodles (zoodles) as a low-carb alternative to pasta, carrot curls for soup and salad, or potato spirals to toss with olive oil and bake.
This kitchen appliance is particularly great to use if you have children. They love helping turn the crank, and it inspires vegetable eating.


Knives
Sharp, ergonomically-designed knives make kitchen prep much easier and more enjoyable. Quality knives can be pricey but try to have a few good ones. A serrated bread knife, large chopping "chef's" knife, and a small paring knife will get you through most culinary projects.
Measuring cups and spoons
Feel free to improvise, but sometimes following a recipe by measuring ingredients exactly pays off with tasty results. A stainless steel or copper set will last for decades.
Mason jars
Mason jars are an easy-to-find kitchen item used for storing dry goods in your pantry, refrigerated leftovers, or as a container to pack your lunch in. Get 4-8 pint jars and 4-8 quart jars for an adequate selection.
What are the best 5 meals to make in advance?
1. Salad jars
Salad jars are one of those brilliant but basic meal ideas that once you learn to make, you can use it weekly, if not daily for your lunch lineup.
The basic premise of salad jars is to make yourself a protein-packed, veggie-loaded salad full of flavor and nutrients.
Begin by placing sturdy items in the quart jar first. You can use cooked and drained beans, potatoes, beets, winter squash, chopped chicken, or other protein. Add vinaigrette so that they can marinate while it sits.
Next add grains, pasta, cheese, or hard-boiled eggs.
Place chopped veggies on top — peppers, tomatoes, cucumber, carrots, radishes, onions, etc.
Top your salad with leafy greens.
Serve by stirring it up in the jar (fewer dishes) or inverting it into a bowl (more aesthetically pleasing).
Make salad jars with whatever random leftovers you have in your refrigerator, or follow a recipe to obtain great flavor combinations such as marinated chickpea and egg salad or orzo with feta, tomato, and greens.
2. Meal Bowls
Have you ever drooled over those healthy, but super tasty bowls at a restaurant that are the perfect combination of grains, veggies, protein, and some delicious condiments and sauces?
It need not take hours in the kitchen to get these quality results. By using the sheet pan baking method, you can make amazing bowls of your own.
Stock up on a few tasty spice blends or marinades (or make them yourself if you have the time) and pair your favorite food combinations on sheet pans to bake.
The key to successful sheet pan cooking is to make sure everything is done at the same time. (Raw chicken + overcooked broccoli = inedible dinner).
A quick tip for success is to cook your protein on a separate pan or with starchy vegetables such as beets, potatoes, sweet potatoes, or winter squash. Alternately, cut it into smaller pieces when paired with vegetables like carrots, broccoli, and green beans.
Incorporate international flavors such as teriyaki sauces, Moroccan spices, or Mediterranean herbs.
While your veggies and protein are roasting, throw some rice, polenta, quinoa, or other tasty grain in the Instapot to use as the base in your bowl.
3. Overnight oats
Many people consider coffee a viable breakfast option. But, unfortunately, it is not.
In addition to having yogurt, fruit, and hard-boiled eggs on hand, overnight oats are a quick, tasty choice for the morning with dozens of flavor variations to select from.
Make overnight oats the night before or make a few batches for the week ahead.
Here is the ratio:
⅓ cup rolled oats
½-⅔ cup milk or dairy-free milk alternative
Mix ingredients in a pint-sized mason jar, then place it in the refrigerator overnight. The oats are eaten cold in the morning, although they can be heated as well.
Delicious additions include fruit, chia seeds, flavor extracts, cinnamon, protein powder, collagen powder, nuts or nut butter, yogurt, cocoa, or any other flavors that strike your fancy.
4. Whole chicken
A whole chicken is a foundation for dozens of meal options. Buy a rotisserie chicken for when you are short on time, or salt brine and bake your own.
Meal 1: Enjoy the chicken with salad, sauteed veggies, and sweet potatoes
Meal 2: Dice chicken, celery, and chives, and add a dollop of mayo to make chicken salad
Meal 3: Cube chicken and stir-fry with peas, bok choy, and carrots with ginger and garlic
Meal 4: Set aside any remaining chicken and boil the carcass in the Instapot or stovetop. Strain the broth and add veggies, cooked wild rice or pasta, and remaining chicken to make a delicious soup.
5. Pot o' beans
Beans may be one of the unsung heroes of the kitchen, but they are actually worth their weight in gold.
First, they cost pennies. Second, they are versatile. Third, they are easy to prepare.
There are many types of beans — lentils, white beans, garbanzos, and more. They are all tasty but black beans may be the most multipurpose.
Begin by cooking your beans in the Instapot for 25 minutes or soak your beans overnight and cook for an hour on the stovetop.
Make chile with ground beef, turkey, or lamb. Use them as a base for your mason jar salad. Or refry them with a little oil or butter and make breakfast tacos with eggs, avocado, and salsa.
Getting ahead with your meal prep
Instead of spending time figuring out what to cook every night after a long day of work and your eight-year-old fussing in the background, prepare your meals in advance.
Meal prepping saves time, money, and effort and keeps your kitchen tidier. The advanced planning also helps you to customize meals for your family that are both flavorful and healthy.
The Paseo Club offers over 60 fitness classes each week, including LIFT, yoga, Pilates, cycle, and barre. There are also courts for pickleball and tennis and a junior Olympic pool open year-round.
For members who want more one-on-one guidance, there are small group fitness classes and the Greatest Results program, which teaches you about fitness and nutrition.
If you are interested in being part of a community and fitness-focused social club, then the Paseo Club may be the place for you. Schedule a tour today to learn more about what we offer.
To learn more about nutrition and eating right, check out these three articles.