Tennis | drills | paseo palooza
What is Meet the Pros at Paseo Palooza?

Every year the Paseo Club opens up all eight acres of the club to the community for one exciting weekend — Paseo Palooza.
This event is an opportunity for members to bring friends and try out new fitness classes, hang out at the cafe, play pickleball, meet instructors and staff, and enjoy live entertainment.
The Paseo Club is a social club that is a home away from home for its members. The club emphasizes health, fitness, and community. There are 21 tennis and pickleball courts, over 60 fitness classes available each week, and a junior Olympic pool.
One of the most popular events at the Paseo Palooza is Meet the Pros. In this article, we will tell you what Meet the Pros is, why it is important to attend, and how you can sign up to meet the pros!
What is Meet the Pros?
Meet the Pros is a chance for tennis players to get to know more about the club's pro instructors and their styles.
This year, we are excited to use it to showcase some of our newly added adult drills. Participants can learn about the new drill opportunities and who is teaching them.
How does Meet the Pros work?
Members spend 20 minutes with each pro learning tennis drills. After 20 minutes, they rotate to a different court featuring a new coach. Players get grouped by level, and there are usually five to eight players per group.
What are the 5 benefits of meeting the pros?
Whether you are a long-time member of the Paseo Club or just signed up, there are several benefits to meeting the pros.
Meet other tennis players.

Learn different coaching philosophies.

Meet coaches you have not met before.

Form a new private drill after meeting a new pro you want to work with.

Get an idea which coach might be best suited for private lessons if you want to take privates.
Who are the pros?
The Paseo Club has nine different pro tennis instructors offering mini drills at the Paseo Palooza. Each instructor has a specific skill they will focus on.
Stadium: Coach KP Puvogel
Coach KP has taught tennis since 2000 and at the Paseo Club since 2006. KP brings passion, energy, and enthusiasm to beginners and veteran players. He teaches HITT (High-Intensity Tennis Training) that focuses on overall fitness for tennis players; Tennis Trifecta that uses three games during each drill; and Rise and Shine — a live ball class for doubles.
Coach KP will teach a trifecta drill — a combination of different point-style games to put players into game scenarios with specific focal points.
Court 1: Coach Danny Saltz
Coach Danny is a world-class player who was # 4 in the US juniors in 1979. He went on to play at UCLA in '83 and won the New Zealand Open in 1984 as a qualifier. He later had wins over Nastase, Emilio Sanchez, and John Fitzgerald — all top 20 in the world. He played against four # 1 players in the world — Connors, Lendl, Agassi, and Edberg. Danny has worked with national champions in juniors to beginners and everybody in between, teaching clinics, camps, and private and group lessons.
Coach Danny will play out points with groups in his Live Ball drill. Consistent point play allows players to engage with tons of balls played in "King of the Court" style.
Court 2: Coach Gabe Harmat
Coach Gabe is an integral part of the Paseo Club pro crew. He was raised in Israel, where he competed on the national juniors team. He eventually moved to the US and coached while competing on the US and European tours. Gabe continued to compete well into his thirties. He offers decades of experience to his students.
Coach Gabe will offer a drill in doubles strategy that will showcase the best strategies for high-percentage play at every level.
Court 3: Coach Darren Woodford

Coach Darren is Santa Clarita born and bred. He fell in love with tennis at the age of 15 and went on to compete in the junior sectional and nationals. As a college student at UC Berkeley, he received a national ranking as an amateur. Darren is a USPTA Certified Elite Professional. He works with players of all levels but especially enjoys beginner and junior players.
Coach Darren's drill will focus on approach shots so that you can perfect your form to maximize your win percentage when heading to the net!
Court 4: Coach Aleksey Zharinov
Coach Aleksey is originally from Siberia. He was a top-ten player as a youth, and later competed in college tennis. He received an ATP ranking in 2004. In 2006 he won the USPTA Northern Section Junior Development Coach of the Year award. He has been with the Paseo Club for 11 years, helping several young athletes get into Division one and three schools.
Aleksey's specialty is technique, and he will teach a swinging volley drill — a fun shot to hit, but a difficult shot to master!
Court 5: Coach René Heger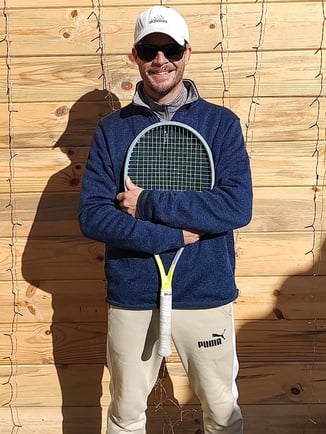 Coach and Assistant Tennis Director René began playing tennis at the ripe age of seven in his native Germany. He began to travel the country to compete at the age of ten. Although he was later sidelined by injury, René never lost his passion for the game. He is certified by the Professional Tennis Registry, an international certifying body.
Coach René will teach a serve and volley drill, showing you how taking time away from your opponent with a serve and volley style can be effective in matches.
The drill involves two essential playing situations, particularly for Doubles.
Serve is the most important shot in tennis. The drill will help to build confidence in your serves and take advantage of starting the point. When it comes to Doubles, equally important is the net game. Whether it is well-timed aggressive poaching or defending your position in the alley, it will be another big aspect of this drill.
Court 6: Coach Jackson Boxall
Coach Jackson grew up playing at the Paseo Club. He played for the Valencia Vikings, winning doubles titles as a junior and senior. He returned to his alma mater at 19 and became the youngest high school head coach at Valencia High School, later winning the league title. Jackson is currently studying sports psychology.
Coach Jackson's drill will focus on forehand drills to help you open the court against your opponents.
Court 7: Coach Jackie Lange
Coach Jackie fell in love with tennis at the Paseo Club in 2004. She competed at the high school and college level, ranking #14 in the West Region for singles. She has a BA in applied exercise science and a Master's in psychology, specializing in sports psychology. She currently coaches Varsity West Ranch's boys and girls teams and at the Paseo Club.
Own the court like Coach Jackie by learning her strategies for employing your backhand to your advantage.
Court 8: Coach Proyfon Lohaphaisan
Coach Proyfon is a native of the SCV. She has been playing tennis since she was 11. She competed successfully at the high school level and played with the D1 college, Quinnipiac in Connecticut. She competed in NCAA tennis three times. She has a degree in Health Science Studies, and is the assistant head tennis coach at Valencia High School and an instructor at the Paseo Club.
If you've ever felt like your return game could use some help, enjoy this drill Coach Proyfon designed to show you how to turn your return into a weapon.
When is Meet the Pros?
Meet the Pros is on Saturday, February 4th, 2023 from 10:00 am - 12:00 pm.
How do you sign up for Meet the Pros?
Save your spot at Meet the Pros by filling out this quick and easy registration form.
Having a blast at Paseo Palooza
The Paseo Palooza is an annual open house for club members and friends. It is a fun-filled way to check out new classes, eat great food, enjoy a drink, listen to music, and socialize with friends, new and old.
The Paseo Palooza begins Friday night February 3rd and goes through Sunday, February 5th.
The Paseo Club is the place to be for Santa Clarita locals of all ages. There is a Kids Club for the youngest members, youth and teen classes for the big kids, and tons of options for adults and seniors.
Members enjoy Taco Tuesday, Wine Down Wednesday, Dive-In Movies, and a host of other social events that bring highlights to the week.
To check out the club, schedule a tour today to check out the fitness areas, tennis courts, and pool, and meet members and staff.
Check out these three articles to learn more about the Paseo Club.