santa clarita | pickleball | gym
Pros and Cons of a Court Membership at the Paseo Club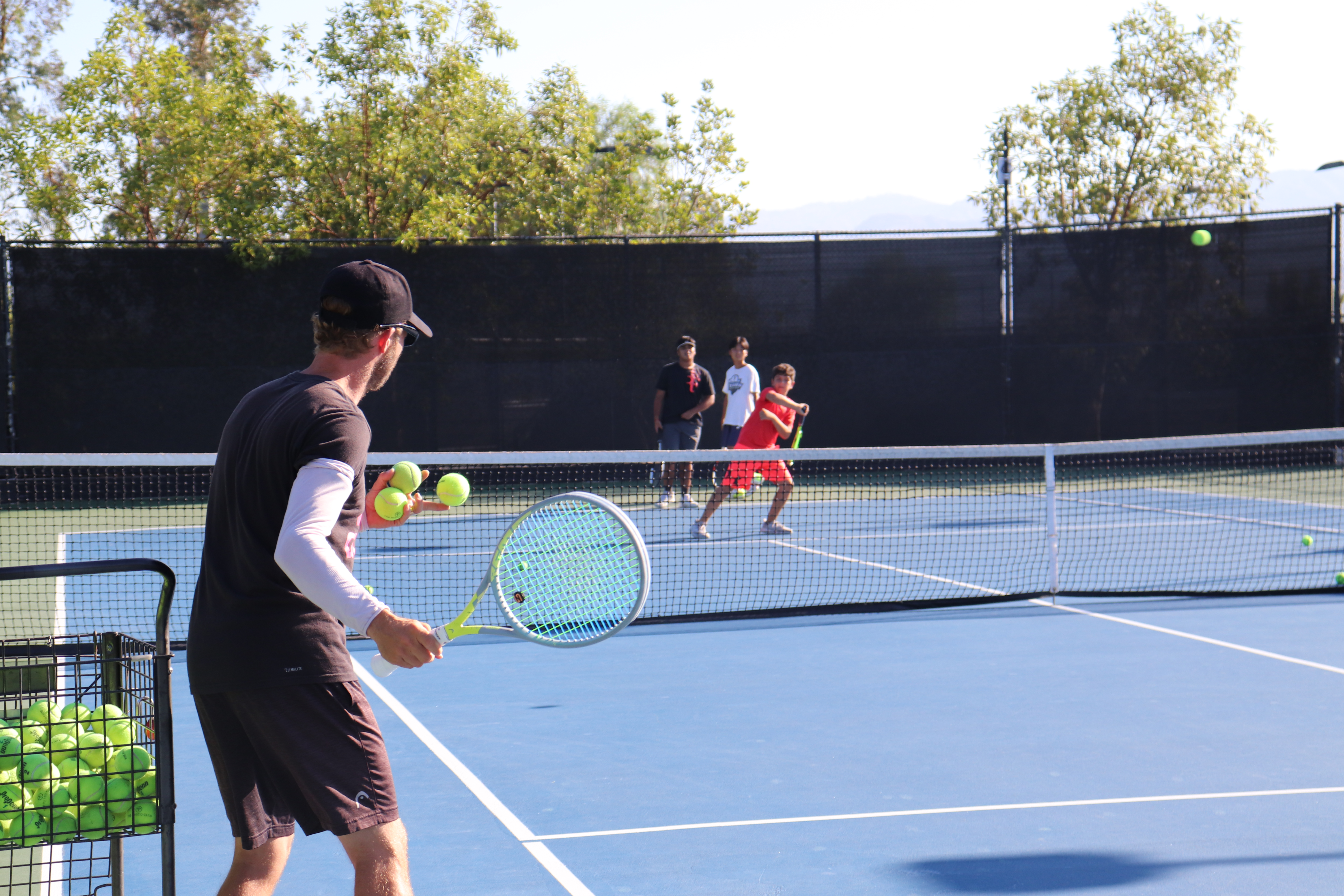 When you're joining the Paseo Club, the options may feel a bit overwhelming at first, and with the different membership types or add-ons, you might have a hard time figuring out which membership type is best for you.
It is with great pleasure that we can help find the right membership for you, to ensure you the best experience at the Paseo Club.
Our two membership types at the Paseo Club are a Fitness Membership and a Court Membership. In this article, we're going to dive in deep to the benefits and downsides of a Court Membership.
If you're ready to join us, we want you to find the membership type that works best for your exercise style. The Court membership isn't the best match for everyone, so we promise to be objective and transparent about what this membership option does and doesn't offer.
Pros of a Court Membership
When signing up with a Court Membership at the Paseo Club, not only are you being provided with access to the basic amenities the Paseo Club offers, but you obtain full court access as well.
This membership is great in helping you meet your personal health goals and objectives. In addition, this membership also gives you the opportunity to meet new people and expand your social circle, both on and off the court at the Paseo Club.
What is included in the Court Membership?
Court Memberships at the Paseo Club start at $145 per month for a single member. With this membership being our recommended choice, there is no doubt you are getting a great bang for your buck.
Read more below to see what court members can enjoy at the Paseo Club.
Tennis
Tennis is one of the top three sports played in the US today, and it has become a staple over here at the Paseo Club. Our club has twelve full-sized tennis courts that provide you with all the space you need to strengthen and improve your skills.
With the Court Membership, you gain access to our beautifully maintained tennis courts. In addition to this, you also have the privilege of reserving any of the courts for your own personal use. So, whether you want to play a set of 1v1's or 2v2's or enhance your tennis techniques on your own, the options are endless.
Pickleball
Even though pickleball has only been around for a few decades, it has become popular nationwide and a fan favorite of the Paseo Club over time. At the Paseo Club, we have eleven pickleball courts, all of which you have full access to and can make reservations to play on as well.
Court Time and Space
Even though Santa Clarita has many tennis courts within the valley, it can be difficult to find an empty court to play on. With a Court Membership at the Paseo Club, this eliminates the hassle of trying to find somewhere to play and allows you to reserve a court at any time.
Pickleball Porch
One of our newest additions to the Paseo Club is the Pickleball Porch. Behind our many courts is where you can find this hidden oasis. There is nothing better than having a nice shaded area equipped with many comfy chairs and tables to kick back and relax after an intense game of pickleball or tennis.
Clinics and Leagues
There are many benefits to joining the Paseo Club with a Court Membership, such as joining our clinics which are classes that help you strengthen your skills and leagues that put your skills to the test, by playing real competitive matches.
Not only can you become more skillful in your court sport of choice, but you can also make friends along the way.
Our experienced instructors make your life easier on the court, whether they're teaching you the sport from the ground up or sharpening the skills you already have.
You have access to most Paseo Club amenities
With a Court Membership at the Paseo Club, you have the ability to utilize nearly all of the amenities that the Paseo Club has to offer, excluding what is included in the platinum add on.
Whether you are looking to come in for a leisure workout, participating in a class, or wanting to mingle and meet up with some friends, there are endless ways you can do so with this membership type.
Gym equipment
One of the things that the Paseo Club is known for is our fitness facility. Members are granted unlimited access to our beautifully renovated three-story fitness center.
There is no need to worry about finding space to workout, because our fitness center is over 10,000 square feet, leaving you more than plenty of room for any kind of workout.
Located near our fitness facility is an additional outdoor space that is specified for heavy lifting, and TRX (Total Resistance Exercise) equipment, which can be located in our very own Tribe Room.
With our wide variety of spaces to workout and gear such as free weights, machines, and cardio equipment, this allows members to target any and every muscle group they want to focus on.
While you're working out, you also have access to our locker rooms. Not only do our locker rooms provide you with a safe space to store your personal belongings through the duration of your workout, but it also is equipped with a sauna that enables you to relax your muscles afterwards as well.
GroupEx classes
Over 70 weekly group exercise classes are included in your membership for no additional cost. We not only offer small group classes but we have larger group classes as well, of which are held both indoors and outdoors.
There are a wide range of class options here at The Paseo Club. Kickboxing, cardio, and yoga are just some of our many favorite class options here that incorporate both fitness and fun.
For many members, group exercise is a huge incentive.
The Pool, the Cafe, and the Bar
Another wonderful amenity at the Paseo Club is the swimming pool. Our Junior-Olympic sized pool is perfect for both exercise or relaxation. The pool is also open year-long for recreational use, so you can jump in the water with friends and family or take a moment to relax on your own.
Just beside the pool is our cafe, where you can feast on a variety of different food options. From light snacks to heavy meals, the cafe menu has something for every member to enjoy.
The Paseo Club also has a recently renovated bar for you to come and relax. You can meet other members while you enjoy some of the creations from our talented bartenders.
Cons of a Court Membership
While the Court Membership at the Paseo Club has many benefits, it also has some downsides. If you're trying to decide if a Court Membership is the right fit for you, you may want to consider some of the cons that come with this membership type.
Higher Price
Although the Court Membership comes with many of the amenities that the Paseo Club has to offer, it is a little bit of a higher price, going for $145 monthly plus the $150 initiation fee.
This could leave you wondering if this type of membership is a good fit for you or not, due to the higher monthly costs. An essential factor in making this decision is whether you are wanting to pay extra per month to have full court access. This really depends on if you are an avid tennis or pickleball player.
Additional Fees For Tennis and Pickleball Classes
Even though the Court Membership enables you full court access, there are still additional fees you have to pay in order to participate in classes for both tennis and pickleball.
Limited Access to the Club
While the Court Membership opens up more parts of the club to members, club access isn't quite unlimited. Without the platinum add-on, members don't have an all-access pass to every part of the club.
This includes Pilates, Masters Swim classes, locker access, and more weekly court clinic options. These classes are still available to non-platinum members, but they will cost an extra fee in addition to your monthly dues.
Think you're ready for a Court Membership at the Paseo Club?
If you are an avid tennis or pickleball player or an individual is looking to join one of these fun sports, then the Paseo Club Court Membership might be the right membership type for you. Come join us!
The only way to know for sure if a Court Membership is right for you is to try it out for yourself. You can sign up for a 7-day free trial with us to try out the club and see if it's a good match.
Now that we've answered any questions you might've had about our fitness membership, we're excited for you to come in and try out your new membership. Can't wait to see you at the club!