7 Best parks for families in the Santa Clarita Valley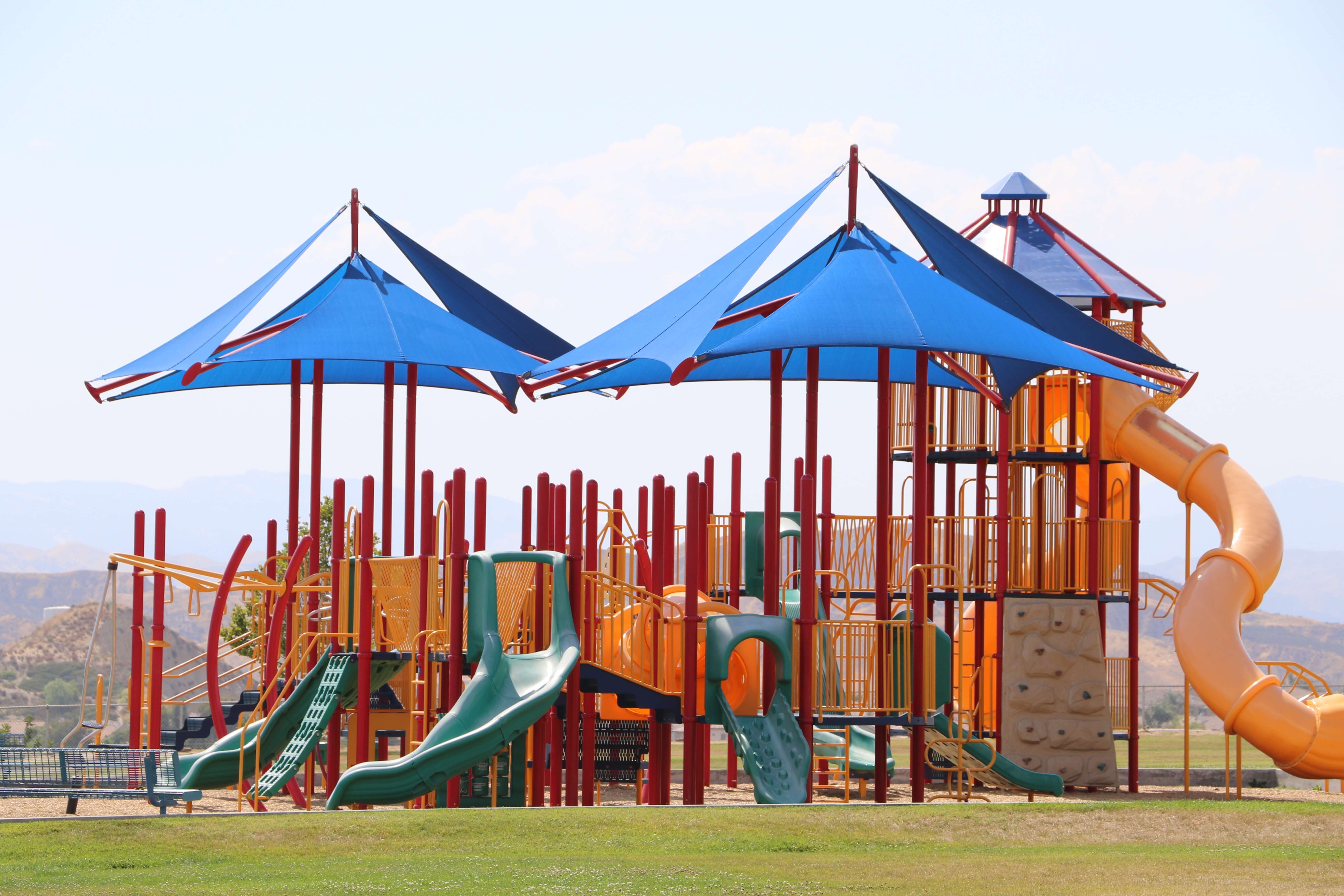 Taking your child for an afternoon at the park is one of those simple pleasures in life. It is a time to put down phones, tablets, and worries and join your child on the swings or playground.
The Santa Clarita Valley is so family-friendly that there are dozens of parks — sometimes it seems they are on every corner. (Is it possible to have too many parks?)
The Paseo Club is a social club in Santa Clarita with classes and activities for people of all ages. Whether it is fitness classes for teens or adults, Kids Club for childcare, or a family swim in the pool, the Paseo Club has something fun for everyone.
We wanted to take the analysis paralysis out of the equation for you. So in this article, we found the best parks in the Santa Clarita Valley. Some are smaller hidden gems, others are large multi-use options. You will learn where the best parks are, what amenities they have, and which age kids will most enjoy the park.


7 best parks for families in the Santa Clarita Valley
The SCV has several great parks throughout the valley, so one will never be far away from you. Pack a bag of snacks or a picnic and head out for an afternoon of fun. The parks are listed alphabetically.
1. Bridgeport Park
23521 Bridgeport Ln. Santa Clarita, CA 91355
Bridgeport Park has bike and running trails, making it a great starting place for a family bike ride around the Santa Clarita Valley. Large grassy areas with some shade, a baseball diamond, a public restroom, a playground, and easy parking makes it great for children ages 1-12.
2. Canyon Country Park
17615 Soledad Canyon Rd. Santa Clarita, CA 91387
Canyon Country Park sports a Wild West-themed playground fun for toddlers (with supervision) up to 12-year-olds. It is gated, keeping the younger ones nearby and shaded, so you do not have to worry about your child getting sunburned.
There are several large grassy areas with plenty of shade. There are dirt and paved walking trails. You can reserve a space at the park for parties and social gatherings. You can also find:
Picnic tables

Public bathrooms

Baseball diamond

Community center

Grills for barbecue
Canyon Country is enjoyable for all ages.

3. Central Park
27150 Bouquet Canyon Rd. Santa Clarita, CA 91350
Central Park has many large, grassy areas with some trees that provide sunny and shady areas. There is a wide range of amenities.
Bathroom

Playground

Picnic tables

Walking trails

Baseball diamonds

Community garden

Fields for soccer/football

Large connected parking lots
Events are frequently hosted here, so it does get crowded at times. This park is for children of all ages.
4. Chesebrough Park
23505 Sunset Hills Dr. Santa Clarita, CA 91354
Chesebrough Park has many areas to play. There is one shaded playground with wood chips and a variety of swings.
The picnic area is available for parties. There are paved walking trails with a bridge that connects to street sidewalks, a baseball diamond, and a large grassy area with some shade. There is a lot for parking.
This park is best recommended for kids ages 1-8.
5. Pacific Crest Park
29051 Garnet Canyon Dr
Pacific Crest Park has a very spacious open grassy area, but there is little shade, making it a better choice on cooler or cloudier days.
There are two different-sized playgrounds with wood chips. One is a smaller structure for toddlers, and the other is a three-story structure with two large tunnel slides and other fun climbing structures for older children. There is a swingset, bathrooms, trails for walking, and benches for resting.
They have street parking only. This park is best for kids ages 1-12.
6. Plum Canyon Park
18819 Skyline Ranch Rd. Santa Clarita, CA 91350
Plum Canyon is a fun park for older kids and adults who still want to play at the park. There is exercise equipment, basketball courts, a baseball field, a playground with a spinning structure, and paved paths for walks and bike rides.
Large grassy areas with plenty of benches and picnic tables are located in shaded and open areas. There are lovely views to enjoy, a public restroom, and two connected parking lots. Plum Canyon is recommended for all ages, especially tweens, and teens.
7. West Creek Park
24247 Village Circle Dr. Valencia, CA 91354
West Creek Park is made up of large grassy flat areas and hills — perfect for practicing soccer, baseball, or cartwheels. There are basketball courts, shaded picnic tables, paved walking trails, playgrounds, and swing sets. The park is very active with lots of families taking evening strolls around the walkways. This park is recommended for all children of all ages.
Getting ready for your next park date in the Santa Clarita Valley
Parks are safe places for children to be imaginative, playful, and expressive. Outdoor play nurtures children's emotional and mental health, cognitive function, and physical skills.


Outings at the park are great for family bonding. This distraction-free setting facilitates communication and builds confidence.


In this article, we shared with you the best parks in the Santa Clarita Valley, where they are located, what you can find at the parks, and what age children they best serve.


The Paseo Club is a social club with an emphasis on health and fitness. There are over 60 fitness classes available each week, tennis and pickleball courts, and a junior Olympic pool. There are programs for youth and teens and child care for babies and younger children.


If you are looking for a family-friendly fitness community, then the Paseo Club may be the social club for you. Schedule a tour to see the facilities and meet the instructors, staff, and members.


To learn more about kids' programs at the Paseo Club, read these three articles.