The 5 Best places for Pilates in Santa Clarita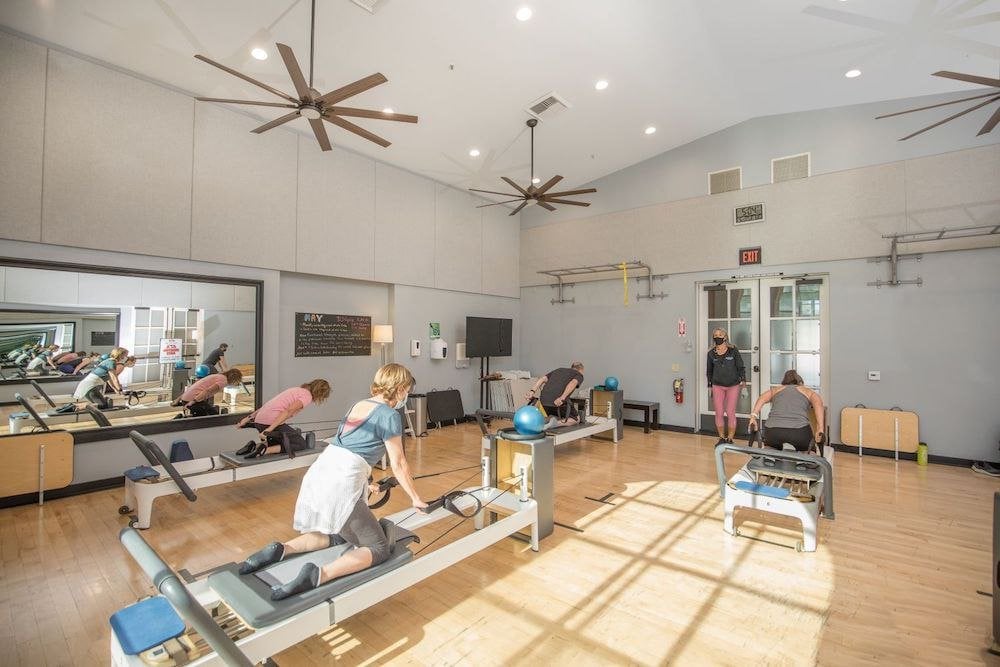 Santa Clarita is well known for its handful of pilates studios that are located across our valley. Pilates Plus, Movement of Pilates, Motivate-Valencia, Club Pilates, Drenched, Pilates Pros+, Complete Pilates & Fitness, Butterfly Studios, and The Paseo Club are just some of the many places that offer pilates in our town.
Pilates is an excellent way to stay fit and in shape all while having fun. By taking Pilates classes it has proven to be a way of rehab for any back pain you may have, helps to improve your posture, and is a versatile exercise that anyone can take part in.
What is so great about Pilates in Santa Clarita is that the sky's the limit and your options are endless in which there are multiple places you can take classes. This gives you the ability to test out different studios and find the one that is the best for you.
We at the Paseo Club are known for our large and involved Pilates community and feel that we are credible and knowledgeable to inform and speak to you about pilates. In this article, we will give you an insight into the many places you can partake in Pilates in Santa Clarita, through a non-bias lens, because you may find one pilates studio that works better for you than the rest.
Pilates Plus
Pilates Plus is located off of 24264 Valencia Blvd. "Pilates Plus is a fun, high energy approach to traditional Pilates based on a combination of Pilates exercises enhanced by weight & cardio training. Pilates Plus utilizes the best of all three: the lengthening and postural enhancing benefits of Pilates and the strengthening, toning benefits of weight training done in a circuit training sequence that keeps the heart rate up and burns extra calories."
"The routines incorporate "old school" exercises such as pushups and lunges, however, with the support of the performer, it eliminates the pressure on the joints and spine allowing for maximum exertion with low risk of injury."
Classes
Their class sizes range from 10 people or less, they exclaim that their small group classes are designed to work out your entire body throughout each 40-minute training session. These classes help you to, "achieve visible muscle definition faster than any other Pilates-based workout. The music is great, the energy is high and the workout is addictive!"
Cost
The pricing of their classes ranges and it would be extremely beneficial for you to look at their website to get a better understanding of how much each class is and the various packages they offer.
Motivate-Valencia
Motivate Valencia is located off of 27674 Newhall Ranch Rd. "Motivate offers 45-minute heart-pumping, full-body workouts. With slow resistance-based movements on a Megaformer, we incorporate strength training, cardio, flexibility, and endurance to torch calories and sculpt the body from head to toe! Ready for a challenge? You've come to the right place."
There are four other Motivate locations where you can take classes, if you find that you like Motivate and just so happen to be near another location you can take a class there for a change of pace and scenery.
The mission of Motivate is that they want every individual to attain an exercise regimen in their daily life. "Motivate offers a fun, engaging, welcoming place for people to come and feel strong. Motivate wants you to know that fitness is more than the change you see on the scale. It is seeing the strength that comes from within you, and pushing past your perceived capabilities."
Classes
The class sizes at Motivate vary depending on the personal preference of each individual. You have the option to do one-on-one training with a personal trainer or you can take group classes in a more team-like environment. The choice is entirely up to you in how you want to take pilates classes, which is nice because you can change things.
Cost
Just like every other pilates studio, Motivate has its own set of prices. These prices depend on how many classes you want to take individually or in a package. Being a member at Motivate gives you the bang for your buck when it comes to pricing. We highly recommend you take a glance at their website to get a better idea of their pricing.
Drenched
Drenched is another one of the many pilates studios in Santa Clarita and is located at 23460 Cinema Dr. On their website, they assert that if you are, "Looking for the Holy Grail of all your favorite workouts?! From Pilates Reformer, DJ'd Hip Hop Yoga, Barre Fight to Heated Sculpt Classes Drenched has everything you need to build a lean strong body. Our staff shows up to every class on full throttle, 100% ready to kick your ass!"
What makes Drenched stand out from other pilates studios is there, "beautiful space that is an interior design Pinterest board of your dreams, is the energy inside those four walls. The heart of Drenched is our fun welcoming personality, encouragement, and genuine care about our students that spills out onto everyone and is what keeps our classes booked."
At Drenched, they do their best to stand out from other competing pilates studios and take their aesthetic to a whole new level. At this pilates studio, it is more than just pilates, they also do barre, and yoga to help keep you in shape and staying fit.
Classes
The diversity of classes offered at Drenched is unlike most pilates studios in which they offer 6 different types of classes at their studio. From barre body, barre fight, pilates sculpt, yoga sculpt, hot yoga, and full body reformer there is no doubt you will find a class specifically for you.
Cost
Pricing could be a make or break for some people when considering joining a pilates studio, luckily at Drenched they have many different pricing packages for all sorts of budgets. From the various memberships they offer, drop-ins, and class packages, we are sure you will come across the most budget-friendly option for you. In your spare time, you may want to look at their website for more pricing details.
Pilates Pros+
You can find Pilates Pros+ at 27927 Smyth Dr in Santa Clarita. On their website, they make it known that "Pilates Pros + has been established as an award-winning Pilates studio for years. Whether you just want to tone your body, strengthen your core, burn calories or rehabilitate an injury, we produce results with our personalized service, given by our expert instructors. Isn't it time to "Reinvent Yourself" and begin your journey to discover the new you!"
The mission and driving force behind Pilates Pros+ are that they believe that, "success is due to the expertise of the instruction, and the relationship with you the client. We believe in offering the same commitment to each client and providing expert results with our Pilates techniques. We create a positive and fun environment which makes your workout not only more productive but ensures an enjoyable experience thereby removing any boring grind you've had at other studios."
Their clients' wants and desires are in their best interests to ensure that they are getting the most out of their classes and that certain workouts can be adjusted to their specific needs.
Classes
Classes at Pilates Pros+ consist of different variations of classes such as Privates, Duos, Group Equipment Classes, Mat Classes, and Mini Lattes for kids. Pilates classes for all ranges of experience and ages. The wide variety of classes allow you to have many different options to try and find out which is your favorite and which is made for you.
Cost
Each class is designed to work on different areas of the body, so depending on the different classes you're taking that helps to determine the pricing for each class. We suggest that if you want more information and details in regards to pricing to check out their website.
Ready to find the best pilates studio for you?
What is so great about Santa Clarita is that there are so many different pilates studios located around our town. After reading this article you may ask yourself, "What do I do next?"
We suggest you take the time to find the perfect pilates studio for you. Take the time to try out multiple studios if you aren't content with the first one you go to. However, you may fall in love with the first one you try, which is great! We hope we answered any questions you may have had about what pilates studios are offered in Santa Clarita and that you found this article informative and helpful.
If you think Paseo Club Pilates may be an excellent fit for you, then you may want to sign up for a 7-day free trial here at the Paseo Club to see if it is the right fit. We can't wait to see you here!