santa clarita | meals | brunch
Brunch in the Santa Clarita Valley: An in-depth review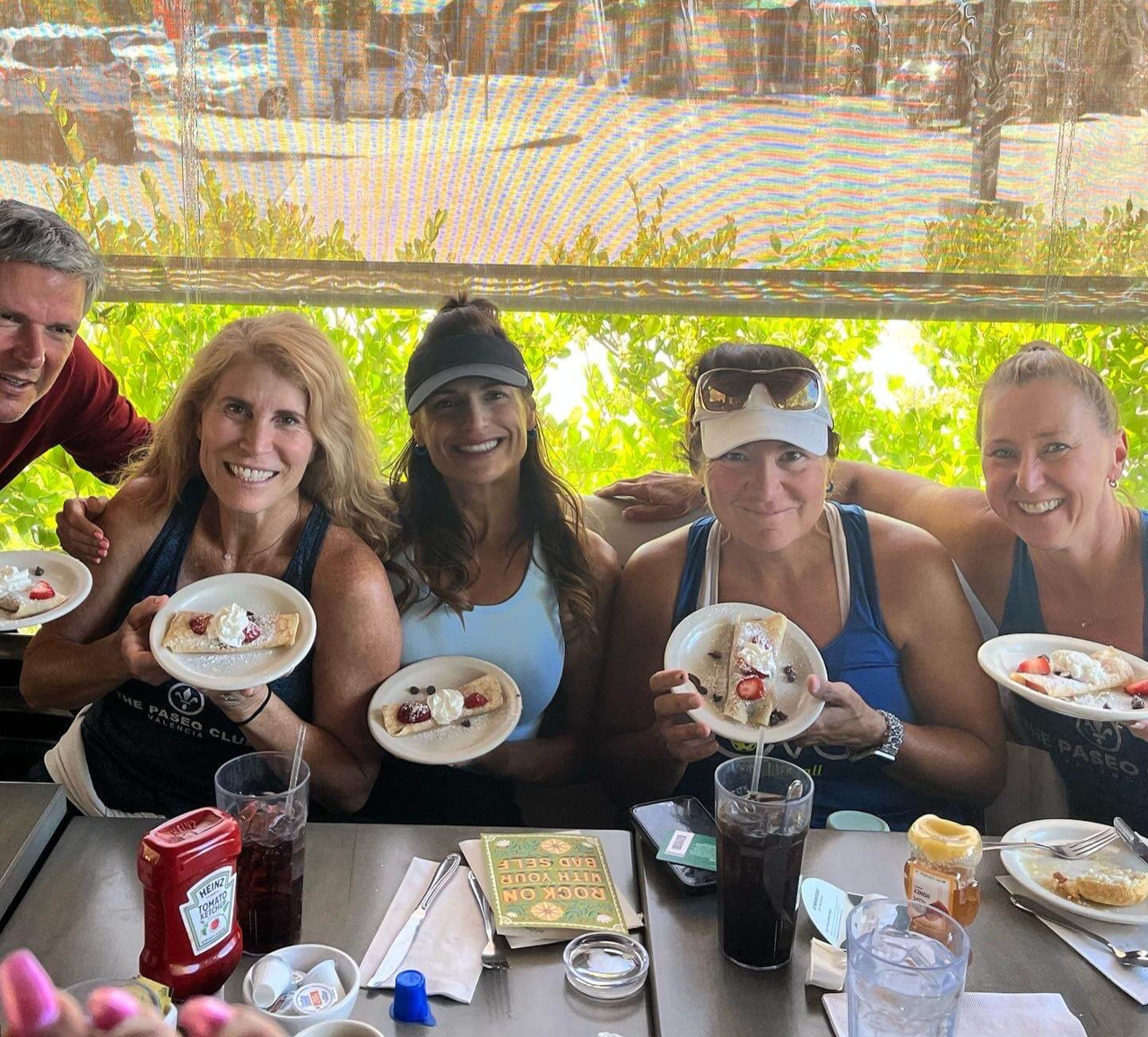 Brunch is the meal that is the epitome of leisure. When you choose to eat brunch, it is because you have already slept in, lazed around, and slowly woke up (late) on a weekend morning.
But as you yawn and stretch, you notice it is already 8:45 am, and you are starved. You cooked all week and want to treat yourself to something delicious and fun. Do you know where to go?
The Paseo Club is a social club in the Santa Clarita Valley. We offer group and private fitness training to thousands of members every year.
Many of our members also love good food. Although they may enjoy a delicious mimosa and pancake brunch at our cafe, we know we are not the only brunch option in town.
That is why we want to share with you where the other stellar spots are. We created this review of restaurants that serve brunch so you can get the inside scoop on which restaurants are the best.
In this article, we will describe our favorite brunch hubs, their pros, and cons, who is a good and bad fit for each place, the average cost of a meal, and a final grade based on the quality of the food, atmosphere, wait time, and cost.


Why eat brunch?
Brunch has no exact time. Be it nine am or noon, there is no correct hour for brunch, giving you endless flexibility when to dine.
A brunch menu offers a diverse and plentiful selection of culinary delights. You can select a small collection of sides if you want to eat light or go for a high-fat, high-carb, high-protein feast (huevos rancheros anyone?), keeping you full for the remainder of the day.
The laissez-faire attitude toward brunch combines perfectly with socializing. Brunch is a wonderful meal to share with friends or family, enjoying drinks (caffeine and alcohol!) and eating gradually over blueberry muffins, eggs benedict, or French toast.
What are some of the best brunch meals?
The reason that brunch is so wildly popular is that you have dozens of choices. You can eat breakfast or lunch. Sweet or savory. Light or filling. Caffeine or alcohol. The diversity of choice appeals to even the most selective eaters — including the five-year-old ones.
Eggs Benedict

is for those that love the rich and salty combination of eggs and bacon with creamy French hollandaise sauce. It is full of umami (savory flavor) and is just the thing for a hearty breakfast.

French Toast

is a brunch-time classic with endless variations. Chefs choose different breads to add new and unique twists. Look for French toast made from challah or brioche served with fresh berries or seasonal fruit for a delicious meal.

Quiche

is another great egg-based option that is often served with a side of salad or fruit, making it a lower-carb and less-filling choice. Quiche options vary from a Lorraine with gruyere, onions, and bacon to a pesto broccoli and many other choices in between.

Waffles

are synonymous with brunch for many of us. There is something about all of those little pockets in the waffle surface cradling melting butter and maple syrup that continually makes us swoon. Don't forget to try some variations such as pumpkin spice, Belgian, or chocolate chip.

Bagels and Lox

are a newer brunch item, brought to the west coast from New York. A well-made chewy bagel — with salty lox and a generous smear of cream cheese — is simply mouthwatering.

Omelets

are great for people who want to customize their brunch meal. With all the cheese, meat, herb, and veggie options, you can create whatever type of omelet you can imagine.

What makes a great ambiance for brunch?
Brunch is more than a meal. It is a low-stress, relaxed social gathering. More than any other meal, brunches are eaten at a slow pace. Select restaurants with a tranquil ambiance to get the most out of your brunch experience.
Attractive, but not stuffy, decor

Warm and helpful staff that are attentive but do not hover

Soothing background music that supports a peaceful mood

Natural lighting that brings beauty and illumination to the meal table

Modest noise level so that you can hear your brunch mates speak

Reservations are accepted so you can minimize 45-minute waits on busy Sunday mornings



Brunch restaurants in the Santa Clarita Valley
The Santa Clarita Valley has a wonderful selection of restaurants that serve brunch. You will find a range of choices whether you are looking for an affordable family-friend option, fine-dining for a special occasion, or something in between.
The restaurants are listed in alphabetical order.
Egg Plantation
Egg Plantation serves up American fare, omelets, and drinks. They are famous for their fun menu and 101 omelets. There is a full bar and tasty espresso drinks.
Pros: Everyone knows the Egg Plantation housed in Old Town Newhall. They serve brunch on the weekends, and a local guitarist plays from 10 am - 2 pm. If you aren't interested in omelets, there are still plenty of choices on the menu, including corned beef hash, strawberry-stuffed French toast, wraps, and salads.
Cons: This place gets packed on the weekends. Expect a decent wait — especially on Sundays.
Good fit: Egg Plantation is for people who want tons of choices and appreciate a range of adult beverages.
Bad fit: If you are looking for a quick meal, you may be disappointed.
Cost: $12-18
Grade: A-
Quote: "We love Egg Plantation and have been coming here for years. They get busy on the weekends, but the staff is always so friendly — they even have complimentary coffee and water while you wait.
Everything we've tried here has been good, but our favorite is by far the Rhiannon breakfast sandwich, yum!" — Veronica P
Eggs N' Things
Eggs N' Things has been in operation for 48 years. They serve breakfast and lunch daily from 6 am during the week and 7 am on the weekends. Eggs N' Things is the staple option for a quick meal.
Pros: They provide fast service, and there is little wait time when you look for a seat. There are dozens of items on their menu, including their signature Swedish pancakes with blackberry preserves and powdered sugar.
Cons: The staff is looking for a quick turnaround, so it is not the best choice for a long and restful meal with friends.
Good fit: Eggs N Things is great for families with kids — quick plating means no entertaining the kids while you anxiously wait for food to arrive.
Bad fit: If you are looking for a boozy brunch, this is not the spot for you.
Cost: $12-17
Grade: B
Quote: "The food and service was wonderful, and everything we ordered was done perfectly with fresh ingredients and lots of care. " — Jack J
The Local Pub and Grill
The Local is a sports bar with a family feel and atmosphere. They offer indoor and outdoor seating, as well as take-out and delivery service. The Local serves brunch on the weekends from 10 am-1:30 pm.
Pros: There are plenty of TVs to watch your favorite game. The service is awesome, and the food is affordable. Popular items are their omelets, chicken fried steak, and chicken and waffles.
Cons: The Local can get very busy — so be prepared to wait on the weekends and gameday.
Good fit: It is perfect for families and sports fans. Customers with furry friends are welcome to bring them and eat in the outdoor seating area. A dog menu is available.
Bad fit: it can get pretty packed, so not a good fit for people who like space and a quiet place.
Cost: $10-$15
Grade: A
Quote: "Great atmosphere, great food, and great people. The outside seating is excellent. The service was outstanding, and the food was excellent." — Allen W


Marston's Restaurant
Marston's Restaurant was voted "Best Breakfast in CA" by Food Network Magazine, and "Best Brunch in the Southland" by the LA Times. They have become a Valencia staple in the ten years since they've opened. Legend has it that Chef Jim (a former Paseo member!) puts out 8,000 pieces of his famous French toast every month!
Pros: Marston's is attractive and quaint. It has outdoor seating and a full bar so you can sip mimosas and Bloody Mary's alongside your brunch. The egg dishes are great and the French toast comes coated in cornflakes for a fun crunch!
Cons: Sundays fill quickly due to congregants from Real Life Church patronizing the restaurant.
Good fit: Beautiful outdoor space for a sunny morning.
Bad fit: Sundays can be crowded.
Cost: $10-17
Grade: A
Quote: "My wife and I came here for breakfast and had a great time. We had "Just Eggs" with a side of yummy French toast. It was all excellent. We will return if we have the chance." — Jim L

Neighbarista
Neighbarista is a small shop specializing in good food and good coffee. Everything is house-made, including the coffee creamer. The creamer is for sale to take home! Baked goods are the champion here, along with great egg dishes. Are you feeling like something special? Go for the horchata French toast or the churro waffle with a cup of coffee and homemade creamer. They are open Tuesday through Saturday, 8 am - 2 pm.
Pros: Their unique and fun dishes take center stage. Staff is always attentive and kind, sharing their favorites and visiting when you are waiting for your food.
Cons: With a small shop and a small kitchen, be prepared to wait for your meal.
Good fit: When you have spare time and want food made with TLC, Neighbarista is your place.
Bad fit: If you are in a rush, then this isn't the place.
Cost: $12-18
Grade: B+
Quote: "Great food, good ambiance, and engaging wait staff. The food was delivered quickly, and drinks were kept fresh. I got the trio crepes, which were a great kickoff for the day." — Brandon T
Old Town Junction
Old Town Junction is located in the heart of Old Town Newhall. They describe their fare as "rustic, but refined." Their brunch menu may not be as extensive as some places, but what they prepare, they do well.
Pros: The curated menu offers delicious options, such as the huevos rancheros stack, fried chicken and waffles, and The Loco with a beef patty, carnitas, bacon, rice, fried egg, and kimchi. There is "bottomless bubbles" and other cocktails to keep you hydrated during your meal.
Cons: There are not many options for brunch, and the pricing is higher than at other restaurants.
Good fit: The high standards and beautiful decor at Old Town Junction make dining there a special event. This is a great place for a leisurely brunch with your spouse or among friends.
Bad fit: If you are looking for a family-oriented restaurant at affordable prices, then this restaurant is not a good fit.
Cost: $16-23
Grade: A-
Quote: We had great service again and got to sit inside immediately on a Saturday morning. The biscuits and gravy had amazing gravy! There was lots of sausage, and it was very flavorful. The steak and eggs came with crispy potatoes, onions, mushrooms, peppers, and fried eggs. The steak and eggs were cooked perfectly. They always have incredible potatoes (smashed and crispy fried) for breakfast!



Olive Terrace Bar and Grill
Olive Terrace offers high-quality food made from scratch. They have a lovely outdoor patio area for dining, as well as indoor seating with tasteful decor. Their extensive champagne brunch menu is available on Saturday and Sunday, offering mouthwatering variations on classics that keep you coming back.
Pros: Olive Terrace is one of the best brunch spots in the area. You can choose lighter meals such as soups or wedge salad. But super hungry patrons can dive into crab cakes eggs benedict, open-face terrace burger with egg, or paella. They use organic eggs. There is also a large drinks menu for coffee and alcoholic beverages. Delightful desserts are worth saving room for.
Cons: This is a more costly option and is not easy on the wallet.
Good fit: If you value carefully crafted food with an emphasis on creative and unique creations, the Olive Terrace is a great place for you.
Bad fit: Olive Terrace is not a good choice if you are on a budget or are looking for simple, more traditional brunch items.
Cost: $19-36
Grade: A
Quote: "Olive Terrace is a restaurant that we go to when we want the best of the best. The food is excellent and always prepared with the best of flavors and to our liking. The service is great." — Lisa S
Salt Creek Grille
Salt Creek Grille is the popular choice for those looking for something a little more special. Salt Creek offers a Sunday brunch buffet complete with omelet stations, prime rib, and plenty of salads. Brunch is served from 10 am to 2 pm on Sundays.
Pros: There are unlimited mimosas and fantastic food! Customers can select from the pasta station or get lighter fare such as salads and fruit.
Cons: There is a lot to choose from, so it's difficult to leave and not be stuffed to the brim.
Good fit: Select Salt Creek when you have a special occasion to celebrate and want a festive feel.
Bad fit: Salt Creek may not be your best option if you want a faster, healthier brunch.
Cost: $29.95 for adults and $12.95 for children under 12
Grade: A-
Quote: "Fabulous Sunday brunch buffet! Something for everyone. Great service. Comfortable atmosphere. A reasonable price for such an extensive variety of dishes. We were thoroughly impressed." — Tim W
Enjoying your next brunch date in the Santa Clarita Valley
Weekdays are often jam-packed with work, kids, chores, errands, and a hundred other miscellaneous things that require attention.
The weekend is a time to step away from obligations and enjoy time with friends and family. Brunch is a wonderful way to connect with others and have some downtime too.
Nothing is better to drum up an appetite for brunch than a workout. Playing a game of tennis or attending a HIIT workout is a great pre-meal plan. And when you finish exercising, your doubles or training partner is just the person to treat to brunch.
The Paseo Club is a home away from home for our members. We offer over 60 fitness classes per week and have a junior Olympic pool and tennis and pickleball courts to enjoy.
There is a childcare center, cafe, and spa onsite so members can relax and visit before or after workouts. There are youth programs and classes for seniors too.
If you would like to be part of a community that values health, fitness, and personal connections, then the Paseo Club may be the place for you. Schedule a tour of the club any day of the week so you can check out the facilities and meet members, staff, and instructors.
To learn more about the wonderful community of Santa Clarita, check out these three articles.