santa clarita | social | eating | community | friendship
The girlfriend's guide to a night out in the Santa Clarita Valley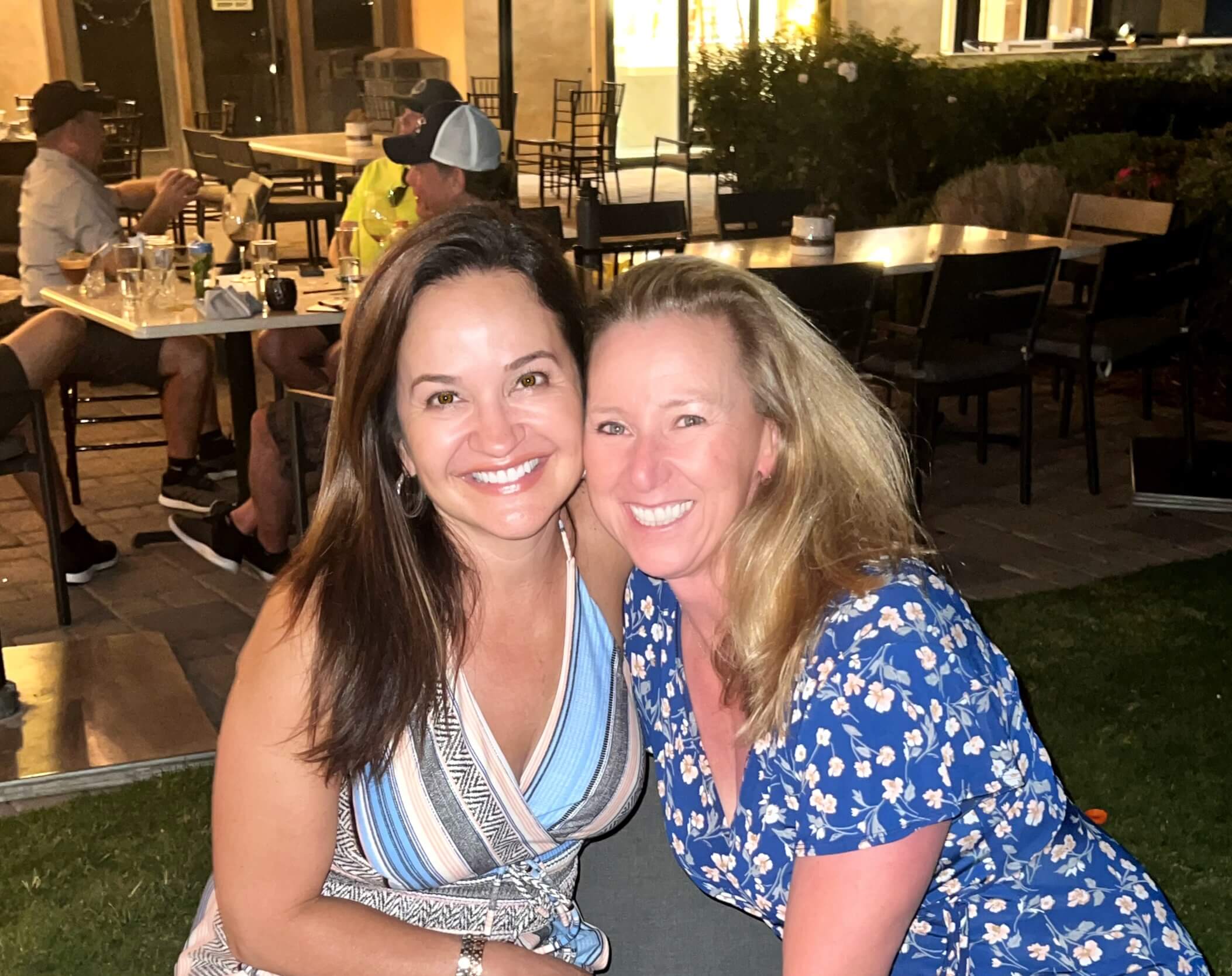 Mother, Chauffeur, Chef, Nurse, Boss, Housecleaner, and more. Women are often saddled with so many responsibilities that one role bleeds right into the next with no breaks in between.
It is no wonder women need a girls' night out!
A girls' night out is like a mini-vacation for the night. No kids. No work. So spouses (sorry hubby, we need a break from you sometimes too).
At the Paseo Club, we know being healthy is not just about hitting the gym. That is why we are a social club with a focus on fitness and community. Making friends, telling stories, and sharing laughs are crucial to feeling great.
In this article, we will share with you where you can have a great night out in the Santa Clarita Valley.
Why do women need a girls' night out?
There are several reasons why social time with your besties is so essential:
Relieves stress

Increases relaxation

Strengthens friendships

Increases a sense of calm

Reduces feelings of overwhelm
Time with your girlfriend actually changes the chemistry in your body! When women get together for a social gathering, it triggers the release of endorphins. Endorphins help relieve pain, reduce stress, and improve your sense of well-being.
A night out with girlfriends provides women with the opportunity to let loose and enjoy themselves. Laughter and girl talk are necessary to break up the monotony of the week and relieve the pressures of marriage and family life.
Time spent with girlfriends facilitates an emotional support system where women can feel comfortable sharing concerns and hardships.

What makes a great girls' night out?
A great girls' night out has a few key ingredients.
Great food

Great drinks

A fun group of friends

An activity or event to attend
A fun night together can be as simple as wine and hors d'oeuvres at someone's house or as elaborate as a weekend away at a spa.
Choose a specific date on the calendar, such as the first Friday of every month to make the girls' night out consistent. Have friends take turns organizing the event, so no one person bears the responsibility every time. Then look for both new and exciting activities that are nearby and affordable.
You want your girl's night out to be something special to look forward to but not an event that causes financial stress.
Where to go in the Santa Clarita Valley for a girls' night out?
The Santa Clarita Valley offers urban amenities without the urban prices and commute times.
Whether you want a quiet evening at a wine bar or a lively night of tequila shots and dancing, this article will give you the inside scoop.
Best drinks in the Santa Clarita Valley
There is something magical about having a glass of Merlot or a tangy lemon drop with your girlfriends that inspires good times. The stories start pouring forth, jokes are cracked, laughter erupts, maybe even a few tears are shed.
Maginns Pub

is an Irish pub designed in collaboration with a company in Dublin, so it has an authentic feel. You can enjoy Irish fare, such as fish and chips, or beef and Guinness stew. There are American and Irish beers on tap and many cocktails and wines.

Reyes Winery

is a beautiful winery set in the pastoral setting of Santa Clarita. You can come here for a wine tasting or purchase glasses of wine. This 16-acre vineyard focuses on making premium quality wines in small, artisanal batches.

The Press Room

in Old Town Newhall is an award-winning wine bar. They have happy hour all day

Mondays and Tuesdays through Fridays from 4-6 pm. Weekly specials are posted on their website. They also serve lunch, dinner, and brunch. The Press Room has a wonderful ambiance and is a great place for a night out.

Newhall Refinery

has been serving fine food and amazing drinks for ten years. They have 22 beers on tap and a wide selection of wines. Lunch and dinner are served Tuesday through Sunday.

The Old Town Junction

is a restaurant and bar in the heart of Old Town Newhall. They offer indoor and outdoor dining in a casual but attractive atmosphere. There is plenty to choose from for dinner, and an extensive cocktail (and mocktail) menu.
Best karaoke in the Santa Clara Valley
Singing karaoke with your friends allows you to feel young again. Karaoke can help you get in touch with your inner rockstar and show your buddies the moves you secretly have been practicing (since the last girls' night out). If you feel shy, then grab one of your besties for a memorable duet.
Doc's Inn

is a hole-in-the-wall bar that offers a true grit experience. There is no website so call Doc's to learn when the next karaoke night is.

The Shot Exchange

is a bar and grill with DJ and karaoke nights.

Mabel's Roadhouse

is another colorful bar that hosts karaoke on Thursday nights.

The Brass Monkey Pub House

has karaoke on Wednesday nights at 8 pm. They serve up drink and food specials.

Best live music in the Santa Clara Valley
Going out to hear live music is an entertaining way to pass the evening. You can listen to a new band, enjoy the tunes, and maybe even get some dancing in. Attending concerts decreases stress and increases levels of endorphins.
The Paseo Club

has live music every other Wednesday at Wine Down Wednesdays.

Salt Creek

has live music every Friday, Saturday, and Sunday evening.

The Olive Terrace

has live music every weekend and some weeknights too.

Larsen's Steakhouse

has either a piano bar or live music on the weekends.

The Performing Arts Center

at The College of the Canyons is a beautiful venue to enjoy live bands and performances.
Best trivia nights in the Santa Clara Valley
Trivia nights are a great way to engage your intellect, work as a team, and have a lot of laughs. A good IPA can be the icing on the proverbial cake!
Pocock Brewery

has trivia night every Wednesday 7-9 pm. Grab a pizza or Pocok pretzel before you play.

Lucky Luke Brewing

is an independent pub with craft beer and quality food. Trivia nights are Mondays at 7 pm.

The Local Bar and Grill

is a classy but down-to-earth bar and restaurant in Valencia. Trivia night is at 6 pm on Tuesdays.


Best restaurants in Santa Clara Valley
A girls' night out should not skimp on delicious food. Whether it is a steak, salad, salmon, pasta, or tacos, there are some truly incredible offerings in the SCV.
Kabuki

is a Japanese-inspired restaurant in Valencia. Patrons can enjoy sushi, carpaccio, and sashimi.

The Social

offers a diverse range of entrees, pastas, and salads. Catch them for happy hour

Tuesdays-Thursdays from 4 pm - 6:30 pm and Fridays from 4 pm - 6 pm.

Salt Creek Grill

is a family-owned steakhouse in Valencia. They specialize in high-end mesquite-grilled foods, including

Caesar over mesquite,

b

urgers, seafood, steaks, ribs, and pork chops.

The Olive Terrace

is a bar and grill with a wide range of tasty options, such as paella, chopped salads, Madra's shrimp curry, and lasagne.

Sabor Cocina Mexicana

is a Mexican restaurant and bar that has been in business for 23 years. It has a beautifully decorated interior and amazing food.

Best places to go dancing in Santa Clara Valley
Having a glass of wine, getting dressed up, and going out dancing with your girlfriends is an opportunity to really let your hair down. Whether you enjoy a DJ and sing at the top of your lungs to your favorite hits or are at a show with a local band, dancing burns calories and feeds the soul.


Drifters

is a bar and pizzeria with 20 beers on tap. DJs play tunes on Friday nights, and Karaoke is available on Sundays. There are drink specials throughout the week.

Black 'N Blue

is a restaurant and bar in Santa Clarita with billiards and live music. You can book space for special events or parties. They have an extensive menu.

Mabel's Roadhouse

is a dive bar with a wide selection of drinks. A jukebox plays hits from the 2000s, and DJs often play music on the weekends.
Gearing up for your next girls' night out in the Santa Clarita Valley
Taking time to care for yourself is not always easy. You can get mired down in chores, work, and family demands. After a full day, exhaustion takes over, and you have no energy to go anywhere or do anything.
A girls' night out is a special event that helps you relax, have a good time, and strengthen bonds with your friends. It is also an opportunity to go somewhere or do something special that you may not normally do.
The Paseo Club is a hub for fitness, health, and community. We believe that working out and getting strong with friends is fun and a great way to laugh and let off steam.
When members aren't breaking a sweat in one of the 60 fitness classes or on the courts, they visit with buddies at the cafe or one of our weekly social events.
On Wine Down Wednesdays, live bands perform or DJs spin tracks, and the bar is open with rotating drink specials for the night. There is always the opportunity to dance and enjoy time visiting with girlfriends.
If you are looking to build your community and enjoy exercising, the Paseo Club may be just the place for you. Schedule a tour of the Paseo Club and meet members, instructors, and staff.
Read these three articles to learn more about the Santa Clarita Valley.