Fitness | core | low-impact | TRX
What is TRX and Core class at the Paseo Club?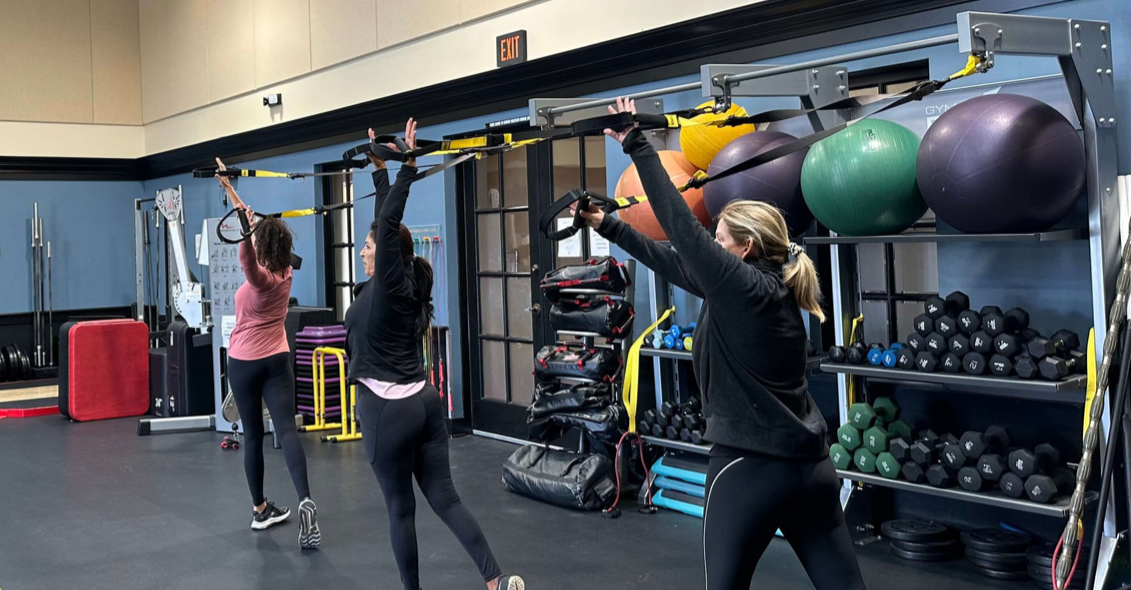 Are you tired of running, biking, or playing tennis because only some parts of your body are getting trained? Are you short on time but want a full-body workout?
It is no surprise that the US military, Olympians, and pro baseball players have all turned to TRX to help them achieve optimum fitness.
TRX is a full-body workout method that uses a simple mounted suspension system and your own body weight. It focuses on core strength as the foundation, and includes dozens of movements that target all major muscle groups.
The Paseo Club is a social club in the Santa Clarita Valley that offers fitness classes, tennis and pickleball courts, and a junior Olympic swimming pool.
This month the Paseo Club is offering the new class TRX and Core. In this article, we will discuss common questions about this class — what TRX is, what the benefits are of TRX, who can participate in a TRX class, and how to sign up for a TRX and Core class.
What is TRX?
TRX stands for Total Body Resistance Exercise.
It is a strap and pulley fitness equipment designed to build strength by using body weight and gravity. The TRX is mounted, and the user leans away from the apparatus forcing balance and creating resistance. You can perform over 100 movements using TRX.
Why is TRX a great workout?
TRX classes are great because they put the user on an unstable surface, forcing them to balance their body in three dimensions, thus making the movements more challenging.
The TRX system allows you to choose the degree of difficulty by adjusting your body position to add or decrease resistance.
This highly efficient and effective method activates many muscles, so the person gets a better workout compared to many other fitness systems.
The benefits of TRX are:
Increases flexibility

Enhances coordination

Provides a full-body workout

Low-impact and gentle on joints

Increases core and joint stability

Can be used by beginner or advanced athletes

Uses body weight and gravity — no weights are required
What does a TRX class look like?
TRX classes begin with a warm-up that elongates and stretches shoulders, hips, legs, back, and knees. The rest of the class focuses on different muscle groups for a total body workout. The core is used for every movement pattern, so people learn to stabilize their abs, obliques, and lower back.
Who is TRX a good fit for?
Anyone can take a TRX class because you can modify the movement patterns for depth and degree of resistance. Youth, adults, and seniors can use TRX, adjusting the workout to their skill level. Physical issues or limitations can be scaled as needed.
TRX is also a great addition to any warm-up routine. It can increase balance during a leg workout, for stretching and opening the shoulders, and to help with rotational movements that many tennis players struggle with.
Is there anyone that shouldn't attend a TRX class?
Individuals should obtain doctor approval if you have a prior injury. Inform your instructors if you are recovering from an injury so they can modify or scale movements accordingly.
What is TRX and Core class at the Paseo Club?
TRX movements are designed to develop the core. But this class is a little more advanced than a regular class because it puts even more emphasis on building core strength. Participants must already have some core stability to attend.
When is TRX and Core offered?
TRX and Core is offered Mondays and Wednesdays at 10:45 am, Fridays at 10:30 am, and Sundays at 9:45 am. Classes are 45 minutes long.
What is the cost of TRX and Core?
Individual classes are $25 per session, but the price is reduced when people sign up for multiple classes.
6 Pilates and or small group training sessions $132 ($22/session)

8 Pilates and or small group training sessions $160 ($20/session)

10 Pilates and or small group training sessions $180 ($18/session)

20 Pilates and or small group training sessions $300 ($15/session)

How do people sign up for TRX and Core classes?
People who would like to attend TRX and Core classes can use the app or sign up with a staff person at the front desk of the club.
Attending your first TRX and Core Class
Whether you are looking to cross-train with your favorite sport or want a new exercise class, TRX is an excellent option for a full-body workout.
TRX is safe to use by all participants and will not aggravate joints. As you build strength and stability, you can increase your resistance, customizing the workout to your skill level.
The Paseo Club offers over 60 fitness classes each week, from Zumba to Barre and LIFT to TRX. There truly is a class for everyone.
When members aren't attending a class, you can find them sipping smoothies at the cafe, attending a social event, or receiving a massage at the onsite spa.
If you think a fitness club with a focus on community is a good fit for you, schedule a tour at the Paseo Club to check it out. You can see the exercise facilities and meet staff and members.
Read these three articles to learn more about other fitness classes at the Paseo Club.