Tennis Lessons | Tennis | drills
What tennis drills for adults are at the Paseo Club?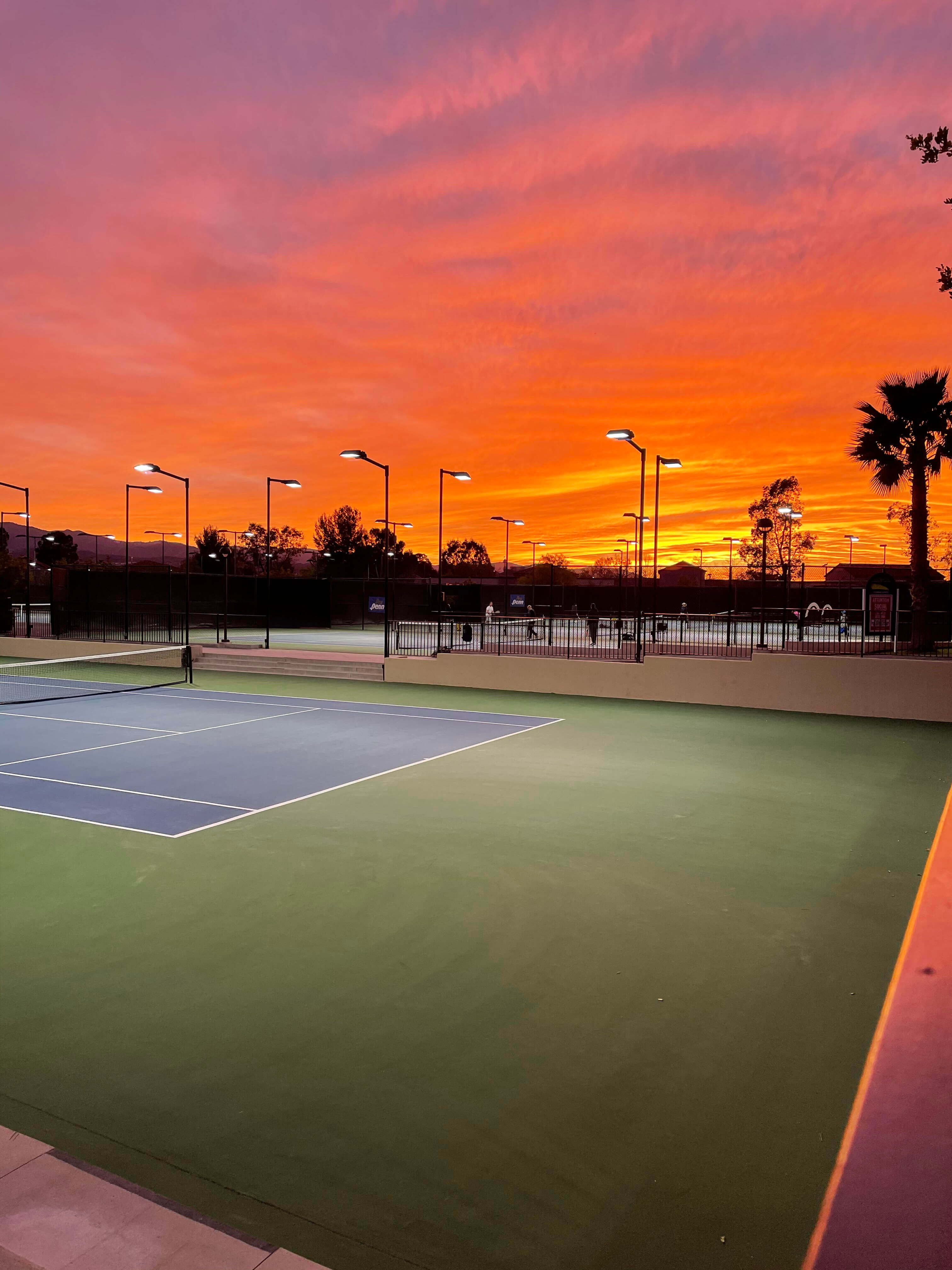 Whether you are a beginner, intermediate, or advanced tennis player, you need to keep your body in peak shape. Being fit is only possible by following a good exercise routine and proper tennis drills.
Drills are not only important for physical training, but also to make you stronger mentally. Drills help you to develop proper technique and build confidence for performing volleys, groundstrokes, serves, and slices.
The Paseo Club is a social club in Santa Clarita that has over 12 tennis courts and a wide range of tennis programs for kids, teens, adults, and seniors. We have several pro instructors that have designed special drill programs for you.
In this article, we will share with you what tennis drills are now available at the club. We will cover who the tennis drills are for, what they entail, when they are taught, and how you can sign up to attend a class.
Why do tennis drills?
Doing drills is essential for the repetition effect. A drill scenario provides players with the opportunity to practice a specific skill, for example, approach shots, and repeat the skill over and over.
This repetition refines technique and muscle memory, so the movement becomes second nature. Combine drills with match play (live ball) to implement those improvements in your game.

What tennis drills for adults are available at the Paseo Club?
H.I.T.T - High-Intensity Tennis Training
Get ready because this is one high-intensity drill program! You will face cone drills, ladders, hurdles, and more assorted goodies. There are several fast-feeding drills and games. You should only sign up if you want to run and exercise intensely!
Level: 3.0 and higher
When: Monday 9-10 am, Wednesday 6-7 pm, Saturday 10-11 am
Instructor: Coach KP
Doubles Strategy
The Paseo Club is happy to introduce a new doubles strategy-focused drill. Learn how to establish pattern play, hone your match play skills, and put it all on the line every six weeks for a little tourney competition. The competition follows drill practice.
Level: 3.5-4.0, players will be assigned accordingly
When: Tuesdays 10-11 am, Wednesdays 6-7 pm, Fridays 5-6 pm, Saturdays 10-11 am
Instructor: Coach Gabe
Serves and Volleys
This class focuses on two primary playing situations — serves and volleys. Serving is the most critical playing situation in tennis. We don't want to dread our serves. We want to take advantage of getting to start the point. When it comes to doubles, equally important is the net game. Therefore volleys will be another big aspect of this class.
Level: 3.5 - 4.0 level
When: Tuesdays 6-7 pm
Instructor: Coach René
Trifecta
Trifecta is a live ball, games-based class, where tennis games are used to invoke repetition and strategy in play. The trifecta represents three games that will make up the class, including King of the Court, Winners & Losers, Hot Seat, and Hat Trick. Each game is played for 20 mins while rotating partners and positions.
Level: 3.0 and higher
When: Wednesdays 10-11 am
Instructor: Coach KP
Cardio Tennis
Tennis is not just a moving sport, it is a running sport. Get your sprinting skills in top shape with cardio tennis. Participants run the entire time, practicing covering ground on the court.
Level: Monday is all levels, Friday 9-10 am is 3.0-3.4 and 10-11 am is 3.5-4.0
When: Monday 8-9 am, Friday 9-10 am, and 10-11 am
Instructor: Coach Danny
Live Ball
Live ball is a drill class where the ball is "live" or in action, the entire time. There is a brief warm-up but there are no drills or games in this class. Live ball focuses on the coach feeding a ball into play to play out points. Players are supervised, receiving insightful tips and advice in the moment.
Level: 3.0-3.4 and 3.5-4.0, depending on the class
When: Tuesdays 9-10 am and 5-6 pm and 7-8 pm, Thursdays 5-6 pm, Fridays 6-7 pm
Instructor: Coach Gabe and Danny, depending on the class


Adult level-based classes
In addition to the specialized drills, Paseo offers adult drills that are level based. The level dictates the intensity and difficulty of the drills. Beginners's feeds are at a slower pace with simpler drills that focus more on fundamentals. More advanced training is taught as the level of skill increases.
The focus point in drills classes usually shifts each week. One week it is backhand slices, next one is approach shots, then volleys, etc.
Starter
Tuesday 6-7 pm Coach KP and Gabe
Thursday 9-10 am Coach KP
Sunday 9-10 am Coach KP and Gabe
Advanced Beginner
Saturdays 8-9 am Coach KP
Level 3.0-3.4
Tuesday 9-10 am Coach Gabe
Thursdays 10-11 am Coach KP
Level 3.5-4.0+
Mondays 6-7 pm Coach Jackie
Thursdays 6-7 pm Coach KP
Sunday 10-11 am Coach Gabe
How to sign up for adult tennis drills at the Paseo Club
Now that you have read this article, you know what drills the Paseo Club offers and how they can benefit your game.
Sign up for tennis drills class via the Paseo App, or register at the front desk. You can also contact Assistant Tennis Director Rene Heger for further details.
Coaches are also available for small group or private drill lessons. So, if you would like to get some one-on-one time or want to do drills with a couple of friends, reach out to Rene to coordinate.
The Paseo Club has supported people in their passion for tennis for almost twenty years. Members enjoy round-robins, tournaments, clinics, and weekly classes.
The Paseo Club also has indoor and outdoor gym facilities and a junior-Olympic pool for all your cross-training needs.
To check out the tennis courts and workout areas, schedule a tour of the club.
Learn more about the social and fitness programs at the Paseo Club by reading these three articles.
7 things to love about Wine Down Wednesday