disinfect | home | viruses | gym | germs | Alexia Doutherd Blog | General Info | clean | bacteria | covid-19
Is Your Home Gym Clean?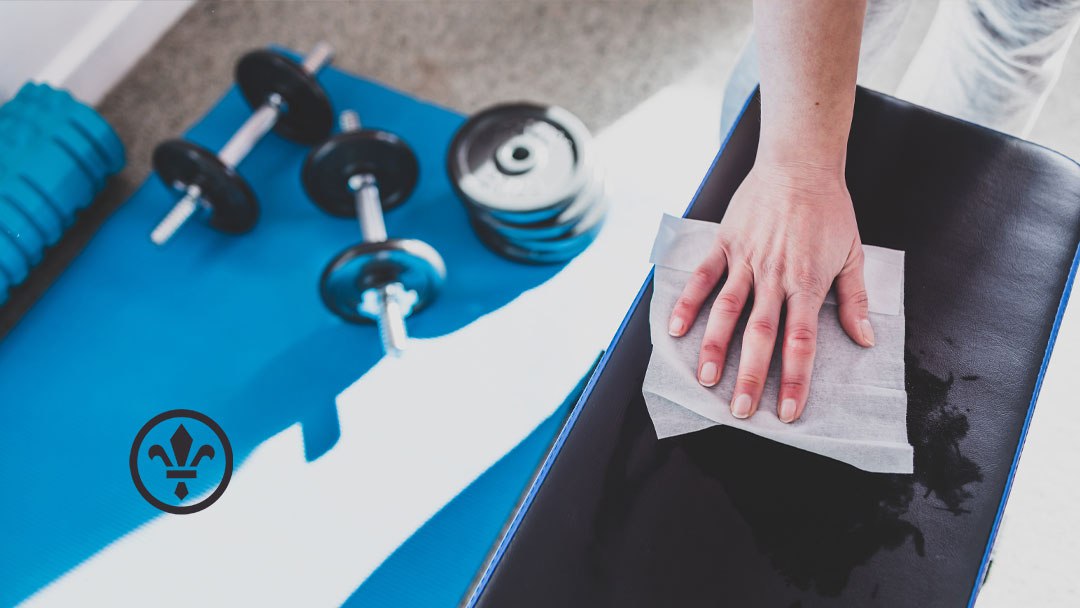 By Alexia Doutherd - Maintenance/Front Desk/Fitness Associate
Along with the New Year comes new resolutions and a lot of those new resolutions pertain to health and fitness.
A lot of us make use of our wonderful Paseo Club fitness area, so we don't have to go far for a fulfilling workout. In order to stay healthy it's important to keep your gym clean to prevent the spread of germs. Especially knowing there are other people in your area using the same gym equipment.
Regardless of what kind of fitness programs you're into, working out generally means working up a sweat and sweat carries all kinds of bacteria and fungus. Many people make their own cleaning solutions with vinegar and bleach to sanitize their equipment, but we don't do that. Rubber floors, rubber handles, wood floors, and other fitness equipment can be damaged by these DIY solutions. Instead its best to use disinfectant wipes like the ones you see placed around the club for your convenience. Our Maintenance Staff uses a fogger to spray down all outdoor equipment regularly, but the help of our members works to keep everyone healthy for all their workout needs.
Floors
One place people overlook when it comes to cleaning their own gyms is flooring. Wooden floors should be swept with a dust mop before being cleaned with a disinfectant cleaner specifically made for hardwood floors. Mats and rubber flooring can be cleaned by first vacuuming any dust and lint, then mopping with warm water and mild dish soap. Try to avoid using harsh chemicals as they can cause the rubber to deteriorate. Paseo Club uses different natural cleaners for our wooden pavilions and our indoor spaces, like the TRIBE room.
Free weights and Benches
Benches should be cleaned after every use. Even if you put a towel down first. You still get a nice layer of sweat down when you use it. Sweat can corrode the bench itself. Cleaning it down each time will help keep the room for smelling since that's where your body Odor lives! To sanitize your benches wipe them down with disinfectant wipes or with Lysol spray. Make sure they are dry before using them again as the cleaner needs time to kill the bacteria.
Resistance bands
The best way to wash your resistance bands is to soak them in a bucket of warm water with mild dish soap. Most cleaning solutions can deteriorate the material. If you use your resistance bands in the pool be sure to clean them afterwards as Chlorine can eat away at the bands.
Treadmills, Ellipticals, and other machines
With machines first and foremost be sure to unplug them before doing any kind of cleaning. Then wipe down any surfaces with disinfectant wipes and let it dry. This should be done after every use. (We can't wait to be back indoors to use our cardio deck machines!)
This year, resolve not only to be fit but to be healthy as well by sanitizing all equipment to prevent germs.