Fitness | Holidays | Nutrition | Plate Therapy
What is Plate Therapy and how can it help me this holiday season?
The holiday season is a wonderful time to enjoy family celebrations, hang out with friends, and attend those fun — or not-so-fun — company parties. (Ugly Christmas sweaters, anyone?)
It is also that time when cookies, pies, candy, and alcohol are in full swing — causing us to spend our free time hoping that the 5-10 pounds we got last year do not show up around our midsection again.
This year the Paseo Club has your back. We know how hard it is to strike the balance between enjoying yourself during the holidays and sticking to your health and fitness plans.
Sometimes, especially in the face of such temptation, we need a little assistance. That is why the Paseo Club teamed up with Santa Clarita's own Plate Therapy to create the Holiday Hustle.
In this article, you will learn more about Plate Therapy, what The Holiday Hustle is, what the program entails, and how to sign up.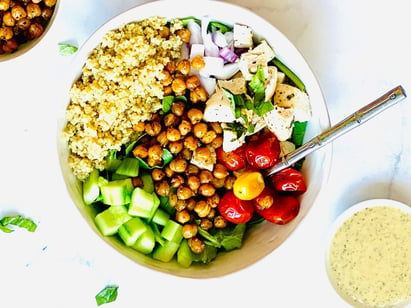 What is Plate Therapy?
Plate Therapy is Santa Clarita's premier meal delivery company.
Their entire menu is gluten-free, dairy-free, soy-free, and delicious. They cook with only the best ingredients that have no preservatives, GMOs, or hormones.
Plate Therapy offers home delivery and grab-and-go. Their healthy baked goods are now shipped cross-country.
How did Plate Therapy begin?
Without Danielle McPartlin and her story, Plate Therapy wouldn't exist.
A few years ago, Danielle was busy raising two boys (and one husband) while trying to return to her optimal weight when she was diagnosed with two autoimmune diseases.
She tried and researched every calorie-counting, restrictive diet you've ever heard of… but found mostly failure and disappointment.
That was until she started experimenting with Paleo-friendly, unprocessed, organic real foods, combined with eliminating common allergens, such as gluten, dairy, and soy.
Suddenly, Danielle began healing from the inside out. Her inflammation went down, she slept better, her energy levels increased, and she got in the best shape of her life!
Friends, family, and even a few celebrities, were inspired. In fact, they were so inspired they asked Danielle if she could prepare meals for them.
Today Plate Therapy operates a commercial kitchen, bringing healthy food to more hungry people. Danielle continues to bring her personal touch and passion, offering complimentary support and guidance along the way.
What is Plate Therapy's philosophy about eating healthy?
Real Food. Real Change.
Plate Therapy takes a holistic approach to well-being because when you eat healthily, you live healthily. It's not just about what you see in the mirror or when you step on the scale.
It's about feeling your best, so you can live your best. Plate Therapy is here to do the prepping, shopping, and chopping for you, so that you can get support when your schedule is full, and you need a break.
What type of ingredients goes into Plate Therapy meals?
Plate Therapy meals are always fresh and organic when possible. Our farmers don't use hormones, GMOs, nitrates, or preservatives.
What are the most popular meals?
Breakfast
Breakfast Hash: Like the holidays in your mouth. Sweet potatoes, apples, cranberries, and onions are seasoned with savory herbs, cinnamon, and maple syrup and topped with an egg.
Rustic Breakfast Bowl: Fall roasted veggies atop brown rice and a sunny side-up egg. A great way to start your day!
Maple Cinnamon Overnight Oats: The perfect pre-workout meal. The overnight oats are topped with our homemade Paleo granola.
Main Meals
Buffalo Chicken Bowl: Simple but so flavorful. Shredded buffalo chicken on top of brown rice, spinach, carrots, and red onion. Served with our homemade paleo ranch.
Shepherd's Pie: Our funniest client, Leslie Jordan, made this dish famous! This comfort meal is a client favorite!
Veggie Chopped Chicken Salad: This crisp, flavorful salad is loaded with pepperoncini, cucumber, garbanzo beans, broccoli, and blackened chicken. It comes served with our homemade dill vinaigrette.
Sweets
Apple Cider Doughnuts: our healthy version of a Midwest favorite.
Paleo Chocolate Chip Cookies: Made with Santa Barbara chocolate chips. They are decadent, perfectly sweet, and chewy.

How is Plate Therapy teaming up with the Paseo Club in November?
By the Paseo Club and Plate Therapy working in collaboration, you can achieve all aspects of living a healthy lifestyle during a busy and stressful time of year when many of us fall off the wagon.
With Plate Therapy, you'll be fueling your body the right way — smart choices made easy with the help of Danielle and her team.
With the Paseo Club, you'll have a home for all your fitness needs. You will stay accountable with friends and instructors in exercise classes, making even the hardest days fun!
What benefits do people receive when they sign up for The Holiday Hustle?
Plate Therapy is offering big discounts on all meal plans. When you sign up for 14 days of meals, you only pay for the price of 12. Save $100 with each plan.
During the Holiday Hustle, the Paseo Club side is giving members the opportunity to be accountable for two weeks in November — a time when many people struggle with maintaining good eating and exercising habits.
The Holiday Hustle begins with participants taking their measurements at the start of the challenge to have a baseline. Members will be guided in staying on track with food choices and workouts for two weeks. At the end of the two weeks, they will be reassessed.
The program helps people make the right choices for two weeks. Enjoying Thanksgiving with friends and family does not have to mean an entire month of poor choices.
Then, rejoin us for our December sprint, and do it all over again — take out some of the holiday stress by leaving the planning to us!
What type of meal plans are available through Plate Therapy?
The Shred Meal plan is designed for people who want to practice intermittent fasting. This option is our most results-driven plan! It includes one smoothie base, one snack, and two meals.
We also offer 1200-calorie, 1500-calorie, and 1800-calorie plans. These plans include three meals and one to two snacks.
How do people sign up for the Holiday Hustle?
There are two ways to reserve your spot at the Holiday Hustle.
Members
Members can sign up for the Holiday Hustle with the Fitness Director of the Paseo Club, Cezanne Youmazzo. Next, order meals at discounted rates at Plate Therapy + Paseo Club 14-day Holiday Hustle.
You can pick up your meals at the grab-n-go at Plate Therapy at 26306 Ferry Court in Santa Clarita or get your meals delivered directly to you.
Non-Members
If you are not yet a member of the Paseo Club you can still participate in the Holiday Hustle!
Begin by registering for a two-week pass with Membership Director Tucker Brown. Once that is completed, you can then register for the Holiday Hustle with Cezanne Youmazzo and select your meals with Plate Therapy.
If people cannot sign up for the November Holiday Hustle, will there be another chance in the future?
Yes!
There is a 2-week challenge in December and a 6-week challenge in January and February.
Plate Therapy makes cookies without gluten or dairy which are really popular. How can people get ahold of those for the holidays?

People can order baked goods by the dozen (and the tasty house-made granola). Look for these cookies:

• Chocolate chip
• Oatmeal raisin
• Snickerdoodle
• Pumpkin spice
• Cowgirl cookies (made with coconut and pecans)
• Fall cookie box with four each of Snickerdoodle, Pumpkin spice, and Cowgirl cookies


Final steps to joining the Holiday Hustle
Shopping, decorating, wrapping gifts, family gatherings with epic meals… the end-of-the-year holiday season can make skipped workouts, overeating, and weight gain feel inevitable.
The good news is that it doesn't have to be. The Paseo Club and Plate Therapy are here to give you support when you need it most.
Take a break from doing all of the cooking, and let Plate Therapy step in and do it for you. The Paseo Club will be there to provide the encouragement, camaraderie, and challenge that will keep your physical activity on track.
The Holiday Hustle starts Monday, November 7. Sign up today!
The Paseo Club is a social club in Santa Clarita that focuses on fitness, health, and community. The Paseo Club has supported members in meeting their fitness goals for almost twenty years.
If you'd like to check out our pool, tennis or pickleball courts, or any of the 60+ fitness classes we offer, you can schedule a tour of the Paseo Club today.
To learn more about nutrition and fitness, read these three articles.