What is the Paseo Club's summer camp open house?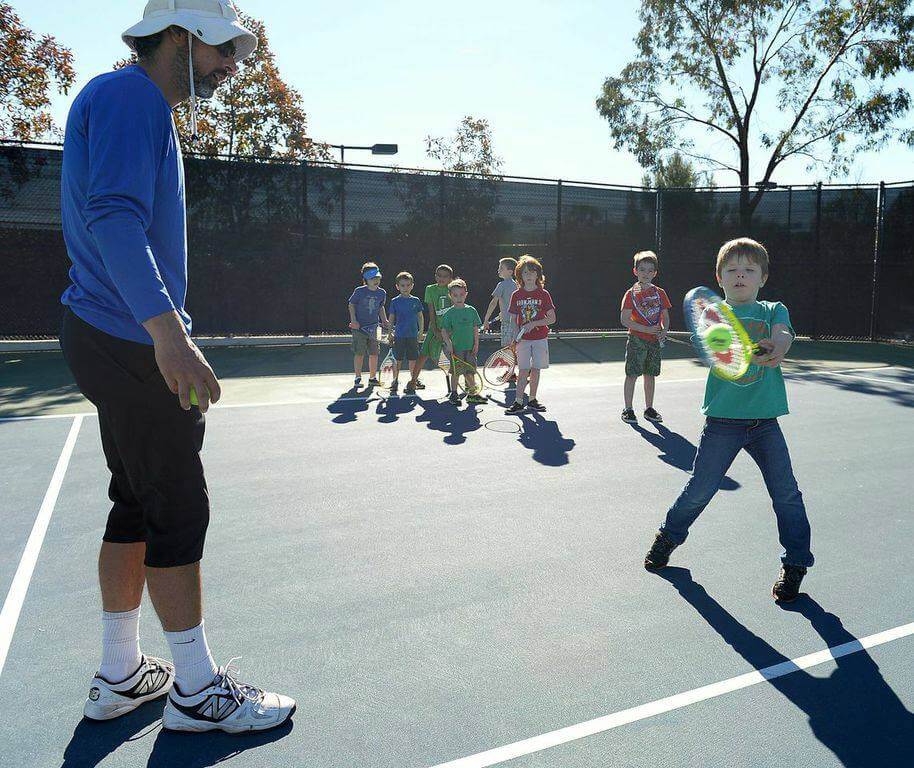 As summer looms closer, we may reminisce about our childhoods — long lazy days of basking in the sun, swimming at the pool, and riding bikes with friends.


But as a parent, summer takes on a whole new meaning.

Who will care for the kids while you work? How can you know if the local camps are well-run? How can you avoid that terrible refrain that children seem to say all too often, "I'm bored"?


The Paseo Club is a social club in the Santa Clarita Valley that serves families of all ages, from babies to eighties. We offer fitness classes, tennis and pickleball courts, and a junior Olympic pool.


We provide many after-school activities for youth. In the summer we host an awesome summer camp.


In this article, we will share how you can learn about the Paseo Club's summer camp — when camp is, what kids do at camp, and how to sign up.


What is the Paseo Club's summer camp open house?
On Saturday, May 20th, from 1-2:30 pm, the Paseo Club will host an open house for anyone interested in learning about summer camp.


Instructors will demonstrate the games and tennis drills they teach at camp, explain the approach to camp, and answer any questions you may have.


Learn how kids of different levels can do the same drill — scaled or made more advanced — depending on the child.
See how kids are kept busy and engaged even when it isn't their turn to hit the ball. There is no standing still or boredom!
Meet the instructors and check out the club courts and pool.


What is the Paseo Club's summer camp?
The Paseo Club provides a tennis youth program throughout the school year. But come summer, the program pauses, and camp begins.


The Paseo Club hosts a summer camp for kids ages 5-18. The camp consists of practicing tennis drills, playing games, eating lunch, swimming, and doing arts and crafts.


The mission of the Paseo Club summer camp is to: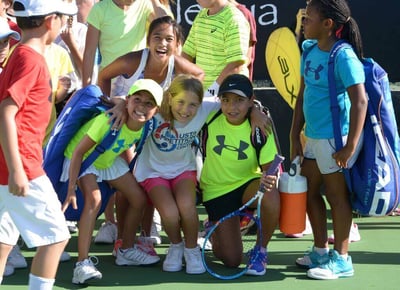 To expose kids to tennis
To provide a fun, educational summer program for kids
To help kids retain the sport of tennis as they grow
To learn how to make friends, build character, and develop self-discipline


Who can attend summer camp?
Kids ages 5 -18 can attend summer camp. Children can be beginner, intermediate, or advanced players — all levels are welcome.


Whether your child wants to attend camp to play tennis for the first time or they are focusing on strengthening their skills for their next competition, the Paseo Club tennis pros can support them.


Camp is open to the entire Santa Clarita Community, members of the Paseo Club, and non-members.


What does a day at camp look like?
Summer camp at the Paseo Club is from 10 am-3 pm.


10:00 am - 11:30 am - Drills, Stroke Analysis
11:30 am - 12:00 pm - Games
12:00 pm -1:30 pm - Lunch & Swimming (Lunch Included)
1:30 pm - 3:00 pm - Match Play & Games (Kids 11 years old and older)
1:30 pm - 3:00 pm - Arts & Crafts (Kids ages 5-10)


Please note: if you have preschool-age children or young children ages 5-10 who want to learn tennis, they can attend lessons on Saturday mornings from 10:30-11 am and 11 am-12 pm.


Who are the camp instructors?
The Paseo Club has a team of pros that are not only great tennis players, they are also experienced instructors. From tournaments to collegiate to pro-level events, the Paseo Club pros have seen all levels of tennis competition.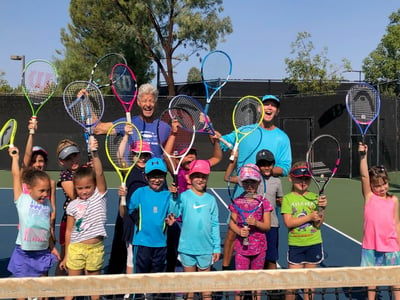 Jackson Boxall was the youngest head high school tennis coach at the age of 19 in Valencia High's history. He helped lead the team to league and quarterfinals. He works at the Paseo Club and is the College of the Canyon's assistant coach.
René Heger is originally from Germany. He began touring as a 10-year-old tennis player. He competed throughout the country, later taking his passion for the sport into coaching. He is certified by the Professional Tennis Registry for 10 and Under and High Performance. He is the assistant tennis director at the Paseo Club.
Dustin Kua found his love of tennis at the age of eight at the Paseo Club. He went on to be a division one men's tennis player at Cal Poly and the University of Portland. He has a great passion for the sport and is a skillful youth coach.
Proyfon Lohaphaisan is a Santa Clarita native who began to compete in tennis at the age of 11 in USTA tournaments. She went on to play in high school and college, leading her college team to three consecutive championship wins.
Jackie Resler is a Santa Clarita native and played at the high school and college levels. She has her master's in psychology with a specialty in sports psychology.
Darren Woodford earned sectional and national rankings as a teen. He continued competing while attending UC Berkeley and after graduation. He is a USPTA Certified Elite Professional.

Aleksey Zharinov was a top-10 junior in his native Siberia. He played singles while attending the University of Minnesota, later achieving ATP ranking in 2004. He has been coaching at the Paseo Club since 2012 and has helped several players get into Division 1 or 3 programs.


What are the fees for summer camp?
Youth can attend the Paseo Club's summer camp for as short as one week or as long as six weeks. Camp begins June 12th and goes through August 4th. Prices are the same for members and non-members.


$475 5-day option (1-week camp)
$890 10-day (2-week camp)
$1,680 20-day (4-week camp)
$2,360 30-day (6-week camp)


There is a sibling discount of 10%. There is also a 10% early bird discount if you register by May 15.
How to sign up for the Paseo Club Summer Camp
Saving your child's place at camp is easy. Simply fill out the reservation form. Remember, if you sign up before May 15, you get a 10% discount!

Making summer plans for your child
With summer right around the corner, it is time to organize your schedule. Kids need enriching camps and activities to keep them busy and engaged.


Tennis is a sport that nurtures fitness, health, agility, and strength. Tennis can be enjoyed by people of all ages, from 3 to 73.


In this article, you learned about Paseo Club's summer camp open house, when the camp is, what happens at camp, and how to reserve your child's spot.


The Paseo Club is a home away from home for our members. We offer over 60 fitness classes each week as well as tennis and pickleball drills for youth and adults.


When people aren't working out, they hang out at the cafe, get a massage at the spa, or visit with friends at one of our many social events.


We'd love to see you on May 20th for our summer camp open house. If you'd like to learn about your family becoming members, then the best way to do that is to schedule a tour. Tours are offered daily!


Read these three articles to learn more about summer camps and youth fitness.