Kid's Corner Bathroom Makeover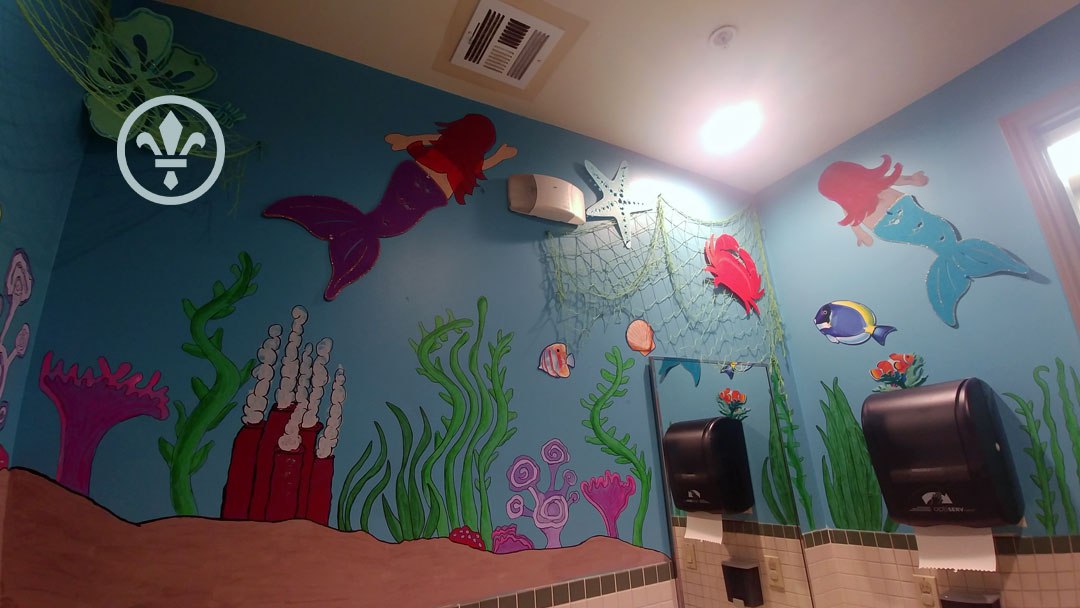 By Maria Garcia - Kids Club Associate
What have we been up to while you have been away during quarantine and temporary closures?
Artist Maria Garcia and kids club staff worked to reimagine life under the sea in the kid's corner toddler restroom.
During this time of Covid-19 many families are working on home improvement projects and that is exactly what we wanted to accomplish with the child's restroom. " This was definitely a passion project." Maria states.
The room was originally painted blue with different theme stickers on each wall and posters. The bathroom really needed a makeover and we have many creative staff members in kids club so we thought we would take on the challenge. The environment of a room can also be an influence on a child's mood for example the color on the walls or music in the atmosphere. The color blue for example promotes a calming and relaxing effect. We wanted the bathroom to have its own consistent theme and experience. In Kid's Corner we assist children with diapering and potty-training support. The bathroom is now a relaxing getaway to put children at ease during caregiving routines and hand washing. We also wanted to add an educational aspect to our under the sea mural. If you look closely you will uncover patterns, colors and different species of fish and coral. This mural will be a great visual stimulant for children to ask questions, play eye spy. The bathroom even has texture and 3d elements that tie the whole room together. In the duration of a weeks time the bathroom was pencil sketched entirely all four walls, custom painted, outlined and decorated. Come by and visit Kids Corner before we jokingly charge admission to our underwater adventure.